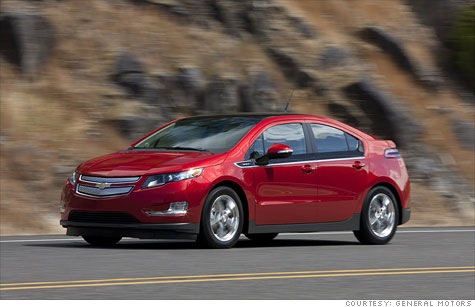 With some additional emissions-cleaning technology, the Volt can now be eligible for HOV-lane acces in California, a perk that's a big sales booster.
NEW YORK (CNNMoney) -- Sales of General Motors' Chevrolet Volt plug-in car, which had been dwindling in recent months, are enjoying a big resurgence in California, a state with some of the highest gas prices in the nation.
But the uptick in Volt sales isn't about saving gas; it's more about saving time.
Despite being incredibly fuel efficient, the Volt's emissions when operating on gasoline weren't clean enough to qualify it to drive in California's car-pools lanes, relegating Volt owners to the whims of grueling California traffic.
But now, thanks to some new engineering tweaks to fix that issue, 2012 model year Volts sold in California can drive in those free-flowing HOV (high occupancy vehicle) lanes -- even with only one person in the car.
For GM (GM, Fortune 500), winning access to those lanes has been like striking gold.
Rollercoaster sales: Interest in the Volt had declined in California prior to the availability of cars with the new emissions package, according to data from Edmunds.com.
The Volt first went into production at the very end of 2010. When first offered, California's sales accounted for about half of all U.S. sales. But by the end of that year, they fell to just 9% of U.S. sales.
Once the emissions tweaks for the 2012 model were made, California sales bounced back. By February and March they grew to 39% of all U.S. sales.
GM has sold about 7,000 Volts in the U.S. so far this year.
The sales pattern indicates Californians held off buying the cars, waiting for the ones with HOV access to arrive at dealerships, said John O'Dell, a "green cars" analyst with the automotive Web site Edmunds.com.
And despite their resurgence, Volt sales in California haven't yet approached their potential, according to GM spokeswoman Michelle Malcho.
That's because the Volt production line was shut down earlier this year because the cars weren't selling as fast as had been anticipated. Now, with the factory up and running again, cars with the new emissions package are just getting to California dealers.
Battling traffic: California car buyers will jump at any opportunity to drive in HOV lanes.
Those lanes flow much more smoothly than other traffic-choked lanes on California highways, especially at rush hour, O'Dell said.
O'Dell owns a car with an HOV-lane sticker and says that when he's driving that car, he gets to work in about an hour. When he's driving a car without the sticker it takes him from two to two-and-a-half hours, he said.
Such stickers used to be available for ordinary hybrid cars like the non plug-in Toyota (TM) Prius, but they can't be used on that type of vehicle anymore.
Now only plug-in cars, compressed natural gas cars and other hi-tech machines like hydrogen fuel cell cars are eligible. The Volt is one of only two plug-in hybrids, the other being the Toyota Prius Plug-in, that are eligible.
In addition to HOV-lane access, the Volt is also eligible for a $1,500 state tax rebate in California on top of a $7,500 federal tax credit. Some local governments in California offer additional benefits for plug-in car buyers, as well.