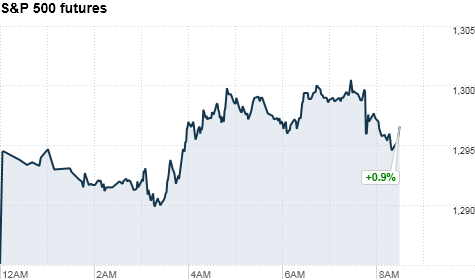 Click the chart for more premarket data.
NEW YORK (CNNMoney) -- U.S. stocks pointed to a higher open as investors await comments from the European Central Bank, and weigh a new proposal for European-wide bank rescues and bailouts.
The Dow Jones industrial average (INDU), S&P 500 (SPX) and Nasdaq (COMP) futures were higher early Wednesday morning, boosted by upbeat economic figures out of Europe. Stock futures indicate the possible direction of the markets when they open at 9:30 a.m. ET.
The ECB left interest rates steady at 1%. The central bank's president, Mario Draghi, will hold a press conference at 8:30 a.m. ET. Global investors will be listening for comments from the ECB on what additional actions -- if any -- the institution will take to address the continent's debt crisis. The hope is that Draghi will signal that some sort of rescue effort is in the works.
The EU also unveiled a plan early Wednesday that would call for a Europe-wide banking union, which would deal with future banking crisis on the continent, rather than leaving them in the hands of their already struggling national governments. A specific size of the rescue fund to be created was not disclosed though.
Gross domestic product figures for the eurozone and the broader 27-nation European Union were unchanged compared to the end of last year, confirming initial readings.
European markets posted strong gains in afternoon trading. Britain's FTSE 100 (UKX) rose 1.1%, the DAX (DAX) in Germany gained 1.2% and France's CAC 40 (CAC40) jumped more than 1.7%.
Also lifting investors' global economic outlook, GDP rose 1.3% in Australia, about twice as fast as expected for the country, which depends on commodity exports for much of its economic activities.
The ECB meeting and EU bank union plan comes amid a deepening banking crisis in Spain, and ahead of a pivotal June 17 Greek election that could determine whether the nation remains in the eurozone.
On the domestic front, investors will be watching for the latest outlook on the U.S. economy. The Federal Reserve will release its "Beige Book," a report covering economic activity in its 12 regional districts, at 2 p.m. ET. The report will be the Fed's first statement on the strength of the U.S. recovery since Friday's disappointing May jobs report.
U.S. stocks finished higher Tuesday, but gains were limited as investors weighed an upbeat U.S. economic report against Europe's ongoing debt problems.
World markets: Asian markets ended mixed. The Shanghai Composite (SHCOMP) slid 0.1%, while the Hang Seng (HSI) in Hong Kong added 1.4% and Japan's Nikkei (N225) gained 1.8%.
Economy: First-quarter productivity was revised to -0.9%, from a previous estimate of -0.5%. Analysts were expecting a reading of -0.8%.
Companies: There are reports that Nasdaq OMX Group (NDAQ) will supposedly tell brokers Wednesday how it will compensate investors for problems with trading, during the Facebook IPO fiasco last month
Facebook (FB) shares edged up 1% in premarket trading Wednesday, after hitting a new low of $25.75 on Tuesday. Shares are still more than 30% below the IPO price of $38, even with the early rise.
Bloomberg reported that Chesapeake Energy (CHK, Fortune 500) is in advanced talks to sell almost all of its pipeline assets for more than $4 billion to Global Infrastructure Partners, which lifted Chesapeake shares 4.7% in premarket trading.
U.S. financial stocks were widely higher on hopes for more help for the European banking sector. Shares of Bank of America (BAC, Fortune 500), Citigroup (C, Fortune 500) and Morgan Stanley (MS, Fortune 500) were all up a bit more than 2% in premarket trading. Bucking the trend was JPMorgan Chase (JPM, Fortune 500), whose recent share problems continued as it was slightly lower in premarket.
Currencies and commodities: The dollar slid against the euro and the British pound, but gained strength against the Japanese yen.
Oil for July delivery rose $1.27 to $85.56 a barrel.
Gold futures for June delivery climbed $20.30 to $1637.20 an ounce.
Bonds: The price on the benchmark 10-year U.S. Treasury fell, pushing the yield up to 1.60% from 1.56% late Tuesday.