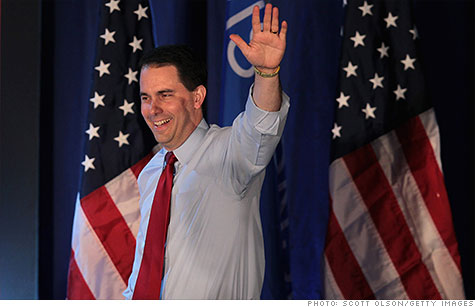 Concerns about the burden of government pension funding on state budget have led to tussles such as the unsuccessful recall of Wisconsin Gov. Scott Walker.
NEW YORK (CNNMoney) -- Pensions and other retirement benefits have become a multi-trillion-dollar black hole for state and local government budgets, sparking fierce battles between elected officials and voters on one side and public sector unions on the other.
Estimates of the public pension fund gap for police, firefighters, teachers and other municipal, county and state employees range from about $1 trillion to nearly $3 trillion. The gap does not include the cost of retiree medical care promised to many public sector workers, likely adding hundreds of billions more.
The underfunding could lead to significant cuts in government services, tax increases or both, according to experts. But it's also provoking a backlash that could reduce many of the benefits promised to more than 19 million current state and local government workers nationwide.
"These pension promises are coming due, and the payments are so large the cities can't function and offer their core services," said Thom Reilly, a former county manager in Nevada, now a professor of social services at San Diego State University. He said several city governments have already filed bankruptcy due primarily to pension costs.
The problem arose because elected officials have been too willing to keep workers happy with deferred compensation plans that would be paid long after they left office, according to Reilly.
But many of the unions representing those workers aren't happy any more.
The desire to cut the public sector pension gap was a key part of the collective bargaining rights battle between unions and Wisconsin Gov. Scott Walker, a Republican. But voters sided with Walker on Tuesday, turning back a recall effort brought by his union opposition.
Less noticed by the general public -- but closely watched by government officials nationwide -- were other elections Tuesday in San Diego and San Jose, where voters overwhelmingly approved significant cuts in pension benefits available for future retirees from the California cities' governments.
The measures enjoyed bipartisan support, backed by San Diego Mayor Jerry Sanders, a Republican, and San Jose Mayor Chuck Reed, a Democrat. More than 66% of San Diego voters approved their measure, while nearly 70% of San Jose voters voted yes -- overcoming opposition from public sector unions, which now vow court fights against the measures.
"What you see in the votes in Wisconsin, San Jose and San Diego is there's not a lot of sympathy there for these plans," said Reilly, who recently wrote a book, "Rethinking Pubic Sector Compensation." "Voters are being asked about compensation that long ago disappeared in the private sector."
Alicia Munnell, the director of the Center for Retirement Research at Boston College, said that not every local or state government is facing a severe pension budget crisis. But she said nearly half have plans funded only between 60% to 79% of the levels needed to pay benefits, and 17% are even worse off than that.
"Do I think it's hopeless and it's the end of the world? No. Many places will muddle through and get things under control," she said. "But there are basket cases where big changes need to be made."
She pointed to Illinois and New Jersey as state pension plans that are among the most troubled in the nation.
Munnell believes that the battles between the elected officials and angry voters on one side and the public-sector unions are not the best way to close the gaps.
"We can't really believe public-sector employees are public enemy No. 1. These are people we have teaching our children and protecting us from crime and fire," she said. "If you can persuade all parties that the current situation is not sustainable, you can get the kind of concessions you need."