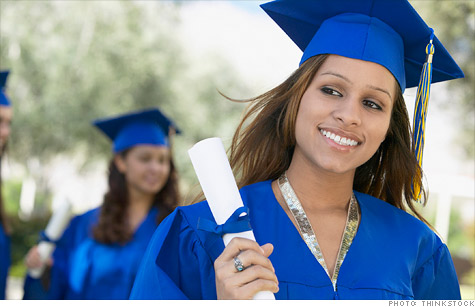 NEW YORK (CNNMoney) -- Doing a little research and shopping around can pay big dividends for students who have a choice in which community college they attend.
In many states, community colleges within a few miles of each other have significantly different graduation rates or success at transferring students into top universities, according to data compiled by the federal government and organizations, such as College Measures.
"Somebody who is choosing a community college should be as careful as they are in choosing a four-year college," says Thomas Bailey, director of the Community College Research Center at Columbia University.
Here are six tips that can help you choose the best community college for you:
1. Eyeing a specific community college? First, take a look at the school's the success rate, as compiled by College Measures. Then, look up its graduation rate and transfer statistics on the federal government's College Navigator web site.
Keep in mind that there are other factors that may impact a school's success rate, like the quality of its feeder high schools, and state rules governing transfer credits, but it is a good starting point, says Mark Schneider, president of College Measures.
"When people look at these (low graduation) numbers they think they are going to be in the 10% who will succeed. But the odds are that you won't," he says.
2. Call the four-year college or university you'd eventually like to transfer to, and ask which community colleges they accept the most students from.
3. Ask the community colleges you are considering if they have an honors program for which you could qualify. Many community colleges with low or average overall success rates have separate honors programs that graduate or transfer a high percentage of their students, notes Bailey. A list of colleges with honors programs can be found at the National Collegiate Honors Council site.
4. Ask the community college if they have any guaranteed transfer programs to four-year universities and what course and grade requirements you must meet to qualify. If they don't have guaranteed programs, ask which universities have "articulation agreements" that will at least give you some guaranteed credits.
5. Call the office for a specific program you're interested in and find out about their success rates. "Just because the [community] college's overall graduation rate is low doesn't mean their nursing program isn't great," says Schneider.
6. If you think you might need to catch up on some basic math or other courses, ask the college about how they teach remedial courses.
Analyses of traditional remedial courses at community colleges show very high failure rates, Schneider notes. "Ask if they are teaching those courses in a new way, and what their record of success is," Schneider advises.
More on choosing a community college:
Community college: How to avoid 'dropout factories'
How does your community college stack up?