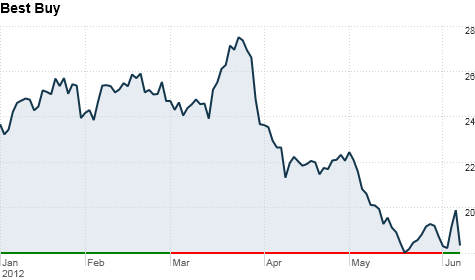 Click the chart for more on Best Buy's stock.
NEW YORK (CNNMoney) -- Best Buy Co. Inc. chairman and founder Richard Schulze resigned from the board of the electronics retailer Thursday.
Schulze, who served as the company's director for 36 years, controls roughly 20.1% percent of Best Buy (BBY, Fortune 500) shares. He said that he will step down immediately in order to explore options for his ownership stake.
"I continue to believe in Best Buy and its future -- and care deeply about its customers, employees and shareholders," he said. "There is an urgent need for Best Buy to reinvigorate growth by reconnecting with today's customers and building pathways to the next generation of consumers."
Schulze's comments come in the wake of heavy scrutiny at Best Buy, as allegations of an inappropriate relationship between former chief executive officer Brian Dunn and a female coworker surfaced last month. Dunn stepped down from his position at the company in April.
Best Buy said Dunn had "violated company policy by engaging in an extremely close personal relationship with a female employee that negatively impacted the work environment" and "demonstrated extremely poor judgment and a lack of professionalism."
The retailer also came under fire in April when it announced plans to close 50 big-box stores in the U.S. by 2013.
The company named Hatim A. Tyabji as chairman to replace Schulze. Tyabji was previously chairman of Best Buy's audit committee and had served as a director since 1998.
The stock is off about 22% this year and fell nearly 8% in late morning trading.