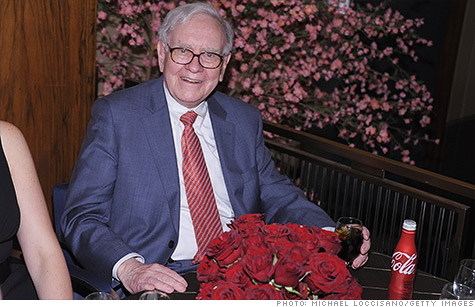 By Friday morning, 84 bids had been placed for the chance to eat lunch with Warren Buffett.
NEW YORK (CNNMoney) -- Well-heeled bidders are vying for the chance to eat lunch with legendary investor Warren Buffett in a charity auction set to pull in more than $500,000.
As of Friday evening, the highest bidder had offered $510,100, according to the auction's eBay (EBAY, Fortune 500) page. More than 90 bids have been placed since the auction began last Sunday.
Proceeds from the annual auction will benefit Glide, an organization that works to alleviate poverty in the San Francisco Bay area. Over the last decade, Buffett has raised more than $11.5 million for the organization.
Starting at 10 p.m. ET on Friday, Glide's website and eBay page will live stream a countdown to the auction's close at 10:30 p.m. Buffett and eBay chief John Donahoe are expected to talk about Glide's charitable work.
Last year, the winner shelled out a record $2,626,411 to dine with the "Oracle of Omaha," exceeding the $2.6 million record set in 2010.
Both of those record auctions were won by Ted Weschler, a former managing partner of Peninsula Capital Advisors. Buffett hired Weschler in September after sitting down for their $2.62 million meal in Omaha last summer.
The chairman and chief executive of Berkshire Hathaway (BRKA, Fortune 500) will join the winner of this year's auction and seven friends for lunch at the Smith & Wollensky steakhouse in New York.