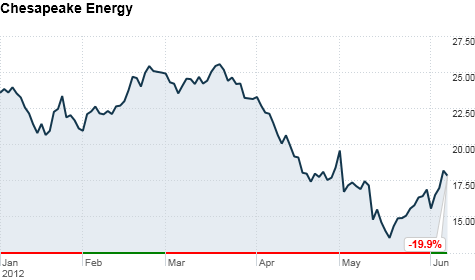 Chesapeake's shares have dropped precipitiously this year amid weak natural gas prices and questionable behavior by its CEO.
NEW YORK (CNNMoney) -- Chesapeake Energy voted out two of the natural gas producer's nine directors at the company's annual meeting in Oklahoma City Friday.
In a stinging rebuke to the company's corporate governance practices, shareholders have forced Chesapeake Energy (CHK, Fortune 500) into a nearly wholesale overhaul of its board over the past week.
On Monday, Chesapeake Energy announced that it would replace four board members and find a new independent non-executive chairman, bowing to pressure from large shareholders Southeastern Asset Management and Carl Icahn.
V. Burns Hargis and Richard Davidson resigned from Chesapeake's board Friday, after receiving support from just 26% and 27% of the company's shareholders.
"Chesapeake appreciates shareholder feedback and will act appropriately with regard to the matters voted on today," the company said in a statement. Chesapeake has said it will announce new directors by June 22, 2012.
Ahead of the annual meeting, Chesapeake Energy announced the sale of three pipelines for roughly $4 billion to shore up cash.
Chesapeake Energy said the asset sales to private equity firm Global Infrastructure Partners will not only generate cash but will help the company reduce expenses by roughly $3 billion over the next three years.
Shares of Chesapeake closed 2.9% higher on Friday, but have dropped nearly 20% in 2012.
Chesapeake has come under fire in recent months after it was revealed that CEO Aubrey McClendon took out more than $1 billion in personal loans backed by personal stakes in the firm's wells.
The natural gas producer is also struggling under the weight of what many see as an unhealthy debt load coupled with weak natural gas prices.
Chesapeake's announcement is part of roughly $14 billion in sales the company says it expects to wrap up this year.