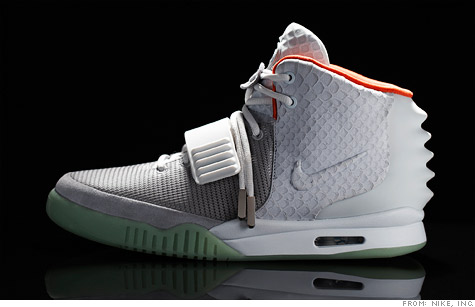 The Nike Air Yeezy II's, set for release on Saturday.
NEW YORK (CNNMoney) -- Thousands of dollars for a pair of sneakers?
That's how much a pair of Kanye West's signature Nikes could pull down in the resale market following their release this weekend -- giving new meaning to the phrase "G'd up from the feet up."
Nike's (NKE, Fortune 500) Air Yeezy II's hit stores on Saturday in a limited release, and will retail for $245. While the precise number of pairs available hasn't been revealed, Matt Powell, a footwear analyst with SportsOneSource, estimated that it will be around just 1,000.
"It will be a very, very limited release," Powell said. "That should drive up the resale market significantly."
Already, sneakerheads, or shoe collectors, have laid claim to a number of pre-ordered pairs on eBay for between $2,000 and $3,000. One auction even closed with a winning bid of $90,000, though Powell said that was likely a phony offer to build hype ahead of the shoes' release.
Nike and eBay (EBAY, Fortune 500) did not immediately respond to requests for comment.
The shoes, a follow-up to 2009's Air Yeezy I's, are tailored to the shape of Kanye's feet and come in both gray and black. They feature a hieroglyphic design on the strap and other "concealed but opulent details referenc[ing] ancient civilizations," according to Nike's website.