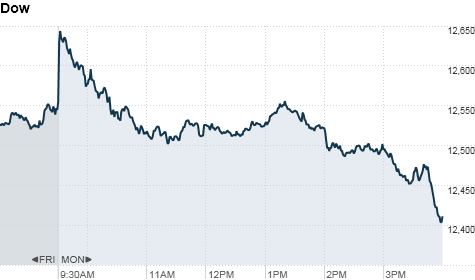 Click the chart for more stock market data.
NEW YORK (CNNMoney) -- U.S. stocks had a promising start Monday, following the best week of the year, but gains were short-lived as early enthusiasm over a $125 billion bailout for Spanish banks fizzled, sending stocks tumbling into the red.
The Dow Jones industrial average (INDU) declined 143 points, or 1.1%, the S&P 500 (SPX) fell 17 points, or 1.3%, and the Nasdaq (COMP) lost 49 points, or 1.7%. All three indexes were up between 0.7% and 0.8% earlier in the day.
Bank stocks were among the biggest losers, with Bank of America (BAC, Fortune 500) leading the Dow's drop. Citigroup (C, Fortune 500), Morgan Stanley (MS, Fortune 500), JPMorgan Chase (JPM, Fortune 500) and Goldman Sachs (GS, Fortune 500) also finished lower.
Over the weekend, members of the eurozone signaled that they may help recapitalize Spain's banking system after the country asked for €100 billion ($125 billion) from the group of nations.
While investors consider "the rescue of Spain as a rescue for the financial markets," they are still facing many unanswered questions, said Kathy Lien, director for currency research at Global Forex Trading.
"Spain has now officially become the largest eurozone economy to request a bailout, but details will not be released until the end of the month," she said. "Where the aid comes from ... will determine which bond holders rank higher and who will absorb the most losses."
Spanish bond yields initially eased to around 6% but moved above 6.5% as investors grew anxious. Italian bond yields rose above 6% from 5.8% last week.
"The Spanish bailout is a move in the right direction, but the European sovereign debt crisis is far from over," said Lien.
Investors are also cautious as they prepare for elections in Greece on Sunday. The concern is that anti-austerity political parties will win enough seats in parliament to derail the bailout program Greece secured earlier this year. The runoff is being viewed as a pivotal moment that could determine if Greece remains a member of the euro currency union or not.
U.S. stocks rose Friday, capping the best week of the year, amid speculation that Spain would request a bailout for its troubled banking sector over the weekend.
Companies: Shares of technology bellwether Apple (AAPL, Fortune 500) fell after the company's annual developers conference.
Battered shares of Facebook (FB), which started to recoup recent losses with a 3% gain in trading Friday, ended in the red yet again Monday. The social media giant is among the 197 companies, including 39 IPOs, slated to join the Russell 3000 index later this month.
JPMorgan Chase (JPM, Fortune 500) finished down. The bank's CEO, Jamie Dimon, will appear in front of the Senate Banking Committee Wednesday to answer questions about the company's $2 billion loss.
World markets: European stocks closed mixed following an early rally. Britain's FTSE 100 (UKX) slipped 0.1%, the DAX (DAX) in Germany gained 0.2% and France's CAC 40 (CAC40) dropped 0.3%.
Asian markets ended higher after Chinese economic reports came in better than expected. The Shanghai Composite (SHCOMP) closed 1.1% higher. The Hang Seng (HSI) in Hong Kong shot up 2.4%, and Japan's Nikkei (N225) was up nearly 2%.
China reported record exports of $181.1 billion and imports of $162.4 billion, which gave it a bigger-than-expected trade surplus and helped to ease concern about a so-called hard landing caused by a rapid slowdown in its economy.
A separate report showed inflation in China slowed in May, which kept the door open for more stimulus from the government there to deal with any possible slowdown.
Last week, China's central bank announced a surprise interest rate cut, which briefly lifted stocks.
Currencies and commodities: The dollar rose against the euro, but fell versus the British pound and the Japanese yen.
Oil for July delivery slipped $1.40 to settle at $82.70 a barrel, the lowest since October 2011.
Gold futures for June delivery gained $5.40 to settle at $1,596.80 an ounce.
Bonds: The price on the benchmark 10-year U.S. Treasury edged slightly higher, pushing the yield down to 1.60% from 1.64% late Friday.