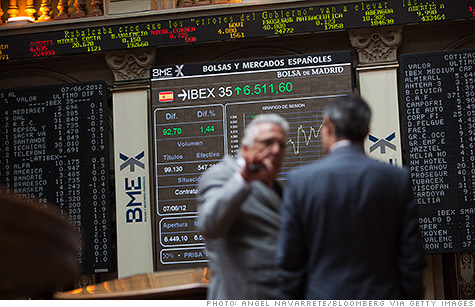 A rally in global markets sputtered on Monday as optimism about Spain's bailout request faded.
NEW YORK (CNNMoney) -- After a big rally early Monday, global markets fell to a mixed close. Yields on Spanish debt climbed above the troublesome 6% level, as optimism about Spain's bailout request faded.
European markets were mixed, with London's FTSE (UKX) down 0.1%, the DAX (DAX) in Frankfurt adding 0.5%, and the CAC 40 (CAC40) in Paris losing 0.04%.
After rising as much as 2% earlier in the day, the Ibex 35 index in Madrid closed down 0.5%.
In Asian trading, Tokyo's Nikkei (N225) ended up 2%. Hong Kong's Hang Seng (HSI) rose 2.4% and the Shanghai Composite (SHCOMP) gained 1.1%.
World markets opened sharply higher following an announcement Saturday that Spain will seek aid from the European Union to bolster its troubled banks. But the gains dissipated in the early afternoon as investors warned that initial optimism in financial markets could be short-lived.
"Initial euphoria after Spain announced that it will request outside funding to help recapitalize its banking system has faded," said Camilla Sutton, currency strategist at Scotia Capital.
Bond yields in Spain and Italy rose as investors started to fear another downgrade of Spanish debt after Fitch cut Spain's credit rating last week. The yield on the 10-year Spanish bond rose to 6.5%, and the Italian 10-year bond hit 6%.
The euro rose against the dollar and the yen.
Greece is also in focus this week ahead of elections on Sunday. The concern is that anti-austerity political parties will win enough seats in parliament to derail the bailout program Greece secured earlier this year.
The runoff is being viewed as a pivotal moment that could determine if Greece remains a member of the euro currency union or not.
In China, the government issued several reports that seemed to give hope that further stimulus to the economy could be forthcoming. On Saturday, the government said inflation eased to a 3% annual rate in May, the fourth straight month of prices below 4%.
On Sunday, the government said the May trade surplus was $18.7 billion, boosted by both record imports and exports.
Oil rose nearly a dollar a barrel to just above $85.
U.S. markets are coming off their best week of 2012. The Dow Jones industrial average (INDU) rose 3.6%, the S&P 500 index (SPX) gained 3.5% and the Nasdaq composite index (COMP) was 3.9% higher. On Monday, all three indexes opened higher, following Europe's rally, but slipped in midday trading.