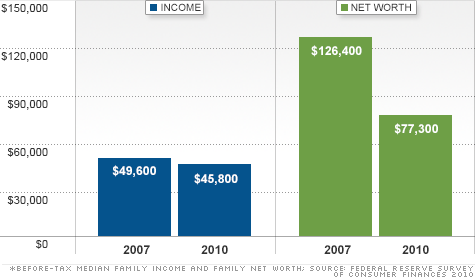 Income and net worth fell from 2007 to 2010.
NEW YORK (CNNMoney) -- The average American family's net worth dropped almost 40% between 2007 and 2010, according to a triennial study released Monday by the Federal Reserve.
The stunning drop in median net worth -- from $126,400 in 2007 to $77,300 in 2010 -- indicates that the recession wiped away 18 years of savings and investment by families.
The Fed study, called the Survey of Consumer Finances, offers details on savings, income, debt, as well as assets and investments owned by American families.
The results, though more than a year old, highlight the marked deterioration in household finances brought on by the financial crisis and ensuing recession.
Much of the drop off in net worth -- to levels not seen since 1992 -- was attributable to a sharp decline in housing values, the Fed said.
In 2007, the median homeowner had a net worth of $246,000. Three years later that number had fallen to $174,500, a loss of more than $70,000 on average.
Families who reside in the west and south, where the housing market was especially hard hit by the recession, were worse off than their peers in the rest of the country.
Making matters worse, income levels also fell during the tumultuous three-year period, with median pre-tax income falling 7.7% as earnings from capital gains all but disappeared.
The loss of income and net worth appears to have impacted savings rates, as the number of Americans who said they saved in the prior year fell from 56.4% in 2007 to 52.0% in 2010 -- the lowest level recorded since the early 1990s.
At the same time, some families were able to escape from debt, as the share of families with debt decreased slightly to 74.9% over the three-year period. Credit card use was down, and the median account balance fell 16.1%.
Meanwhile, families who did report carrying debt showed little change in the degree of indebtedness over the period.
Lower interest rates helped keep debt levels down, but the number of Americans who had fallen more than 60 days behind on debt payments still grew from 7.1% to 10.8% in 2010.
The report also indicated that families with more assets at the start of the recession were able to retain more of their net worth than less fortunate families.
Families in the top 10% of income actually saw their net worth increase over the period, rising from a median of $1.17 million in 2007 to $1.19 million in 2010.
Meanwhile, middle-class families who ranked in the 40th to 60th percentile of income earners reported that their median net worth fell from $92,300 to $65,900 over the same time period.
Correction: An earlier version of this story reported that middle-class incomes had fallen from $92,300 to $65,900. In fact, that figure refers to a drop in median net worth.