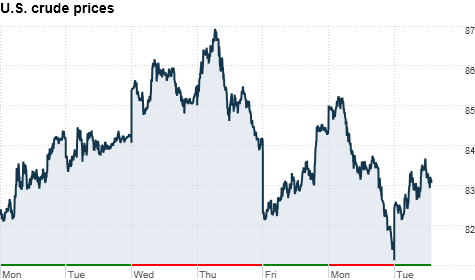 Oil prices hit fresh 8-month lows as Saudis hint at quota increase and Obama waives some Iran sanctions. Europe remains big unknown.
NEW YORK (CNNMoney) -- Oil prices continued their wide swings Tuesday, rising after hitting a fresh eight-month low earlier in the day as Iran, OPEC and the turmoil in Europe left investors with a lot of uncertainty.
Oil prices sunk to $81 a barrel early Tuesday after the Obama administration exempted six countries from sanctions over Iran Monday and Saudi Arabia hinted about production increases that bolstered a Europe-driven selloff already underway.
Prices bounced back later in the day to trade near $83 a barrel, following the broader stock market higher and underscoring the uncertainty of where oil prices are headed in the coming weeks.
Europe is still the main driver for oil prices, and crude prices sank Monday as investors soured on a proposed rescue plan for Spain that seemed more like another patch-work fix and less like a long-term solution to Europe's financial woes.
Oil traders fear a worsening recession in Europe will dampen the demand for crude.
Remarks from Saudi Arabia's oil minister Monday as he arrived in Vienna for an OPEC summit set for Thursday further pushed down oil prices.
The Saudi minister suggested OPEC production quotas may be too low. The comments could blunt calls from more hawkish OPEC members like Iran and Venezuela for a production cut.
"This position is an indication that Saudi is not overly concerned about the recent pullback in oil prices," analysts at Simmons and Company, an energy-focused investment bank, wrote in a research note Tuesday. "It is not yet anxious to aggressively cut supply."
Saudi Arabia has actually been unilaterally increasing supply over the last few months to make up for a drop in output from Iran, which has seen its crude exports drop on the back of tightening U.S. sanctions.
On Monday the Obama administration said seven countries have sufficiently reduced their oil imports from Iran and won't be subject to sanctions from the United States, set to kick in at the end of the month.
The countries include big importers of Iranian crude India and South Korea.
News that the reductions were met without a significant increase in oil prices may have assured traders that a major disruption in oil supplies isn't looming.
China remains the only major importer of Iranian crude to have not met the reduction targets called for by the United States.
Talks over Iran's nuclear program are set to resume this weekend in Moscow. It will likely be the last round of talks before U.S. sanctions are imposed on countries still importing too much Iranian crude and a ban on importing Iranian oil into Europe kicks in.
As to where oil prices are headed from here, Europe's economic quagmire remains the big unknown.
Plenty of traders think the situation in Europe will get worse, and that oil prices are likely to fall into the $70s or below as that happens.
"The measures [to prop up Spain] once again postpone the inevitable dissolution of the EU," Mike Fitzpatrick, editor-in-chief of Kilduff Report's Energy Overview, wrote in a note Tuesday. "There is more downside coming."
Others are far more optimistic on Europe and expect higher prices.
"We continue to expect policymakers will be able to contain the European debt crisis," analysts at Goldman Sachs wrote in a research note Monday. "Further, as tensions between Iran and the West escalate, the risk to crude oil prices is becoming increasingly skewed to the upside."