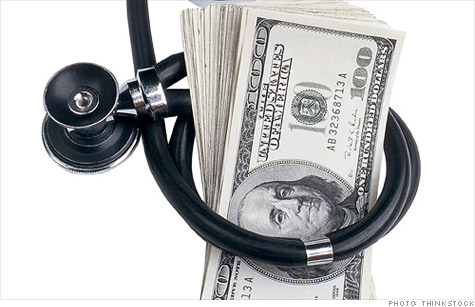 Near historic growth rates in health spending will continue through 2013, then increase as the economy recovers and major health reform provisions take effect, a federal health agency projects.
NEW YORK (CNNMoney) -- Total health spending in the United States will grow at near-historic low rates until 2014 and then increase as provisions of the health reform law take effect, according to a government report Tuesday.
The report by the Centers for Medicare and Medicaid Services measures what everyone in the country spends on health -- governments, businesses and individuals.
Between 2011 and 2021, national health spending is forecast to grow by an average of 5.7% -- or slightly more than the U.S. economy, the agency said.
But for the first three years, annual spending growth will likely average just 4%, slightly above the historic low of 3.8% recorded in 2009. That's in part because of the effects of the recession and slow economic recovery tamping down income, although health experts believe other factors may be at play, too.
"The sustained effects ... on disposable personal income, insurance coverage and unemployment rates are expected to continue to dampen health spending growth through 2013," a group of CMS economists and actuaries wrote in an article detailing the findings in the journal Health Affairs.
By 2014, however, the CMS expects the annual growth rate to jump to 7.4% as major provisions of the health reform law along with a stronger economy kick in. By 2021, the rate slows to 6.2%.
Health reform provisions going into effect in 2014 include an expansion of eligibility for Medicaid; a mandate that all individuals be insured; and federal subsidies for low- and middle-income Americans purchasing policies on state-based insurance exchanges.
The law is expected to reduce the number of uninsured by 30 million over the decade.
As a percentage of the overall economy, the agency expects national heath spending to grow to 19.6% in 2021, up from 17.9% in 2010.
By 2021, federal, state and local governments are projected to foot about half of the nation's health spending, with two-thirds coming from Uncle Sam. That's because of faster growth in Medicare as more baby boomers retire, expanded Medicaid coverage and subsidies to buy insurance on the exchanges.
The CMS expects the health reform law will raise average health spending growth by a tenth of a percentage point over the decade.
Growth in health spending is not synonymous with growth in health care costs. While increased costs of health services and insurance can be factors, so too are how much health care people use and how many buy insurance and prescription drugs, among other things.
The CMS report was released with just days to go before the Supreme Court is expected to rule on the health reform law, which was passed in 2010. The court could choose to uphold the law, strike it down or just strike down portions of it, such as the mandate to have health insurance.
How the high court's decision might affect the CMS forecast, if at all, is unclear. Like everyone else, the agency is waiting to see how the Supreme Court rules, said Sean Keehan, a senior economist in the CMS actuary office.