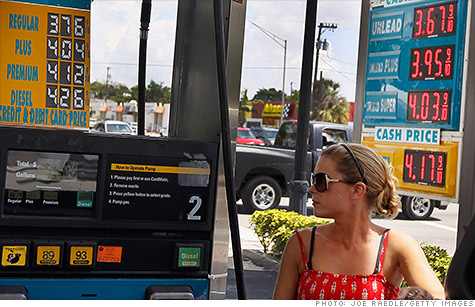 Lower gas prices cut into overall retail sales in May.
NEW YORK (CNNMoney) -- Retail sales declined in May. But that wasn't bad news, because consumers got some relief at the gas pump.
A government report Wednesday showed overall retail spending fell by 0.2% in May, in line with forecasts of economists surveyed by Briefing.com. But the decline was due to consumers spending nearly $1 billion less at gas stations during the month, due to falling gas prices.
Without that drop in spending at the pump, retail sales would have been up 0.1% overall.
Gas prices declined steadily throughout the month, taking the average price of a gallon down about 20 cents to $3.62 at the end of May. That left more dollars in consumers wallets for other purchases.
Spending by consumers is an important driver for overall growth, making up more than two-thirds of the nation's economic activity. May's decline was the second in a row -- April sales were revised to a 0.2% loss from the originally reported 0.1% gain.
On the positive side in the May report was strong auto sales, as spending at auto dealers and auto parts retailers rose 0.8%. The rise came despite new car sales in the month that were the weakest sales pace so far this year.
Spending on electonics rose by the same amount, and clothing retailers enjoyed a slightly larger gain in sales. Spending at furniture stores rose 0.4%.
But general merchandise stores, a sector that includes department stores, saw a 0.5% decline in sales, and consumers also trimmed spending at restaurants and bars, grocery stores, and health and personal care retailers.
One area of concern was spending at building material and garden retailers, which declined 1.7%. That could be a problem if it's a sign of a slowdown in home building. Housing construction has gotten off to a good start this year, with the number of homes started in the first four months of the year up 24% compared to a year earlier.
But the retail sales numbers are adjusted for seasonal factors, so the drop in spending could be due to the warm weather in much of the country earlier in the year pulling some of the expected May spending forward. Stripping out seasonal factors, spending at building and garden retailers actually jumped 13%.
Peter Newland, an economist at Barclays Capital, said that the overall report showed that spending was a bit weaker than hoped.
"All in all, the implication [is] that consumer spending is now on a weaker footing at the start of second quarter than previously presumed," he wrote in a note.