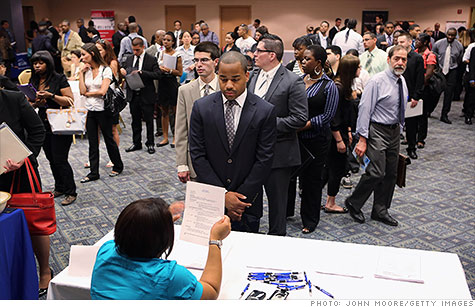 Only 1 in 10 break out of long-term unemployment.
NEW YORK (CNNMoney) -- We all know by now that it's hard for the long-term unemployed to get back into the workforce.
But just how hard is it? Economists at the San Francisco Federal Reserve put a number on the odds.
In the first few weeks after losing their jobs, about 3 in 10 people are able to find work.
But after about a year of being out of work, the chances of landing a job fall to just 1 in 10 per month.
People with the best job prospects tend to find new opportunities fairly quickly. But those who come from industries that are downsizing or who have outdated skills can wind up unemployed for many months or even years.
Though this has long been true, the Great Recession has hit the long-term unemployed even harder. The unemployment rate was higher during the 1980s recession, but the most recent economic downturn has lasted longer, making it more difficult for people to find new jobs.
There are 5.4 million people who've been out of work for more than six months, which is generally considered when long-term unemployment begins. They make up 42.8% of the unemployed.
While the share of long-term unemployed is down a bit from its peak last year, it's still at record-high levels. So is the average length of time it takes to get a job, which has hovered around 40 weeks for the past year.
The news, however, isn't all bad, according to the Fed economists. Their study debunks the view that the long-term unemployed will never find new positions.
Even at this weak re-employment rate, about half of the long-term unemployed will find a job within six months, and three-quarters within a year.
And the chances of finding a job for those out of work 18 months or more is not much lower than those who've been jobless between 6 and 18 months.
"[There's] a low risk that the U.S. labor market will suffer from a bout of persistently elevated long-term unemployment, even after the most severe recession in postwar U.S. history," the study found.
The fact that those out of work for more than a year don't see a big drop in re-employment chances means that the problem is cyclical rather than embedded in the economy, said Michael Reich, director of the Institute of Research on Labor and Employment at University of California at Berkeley.
"A revival of the economy will help them a lot," Reich said.