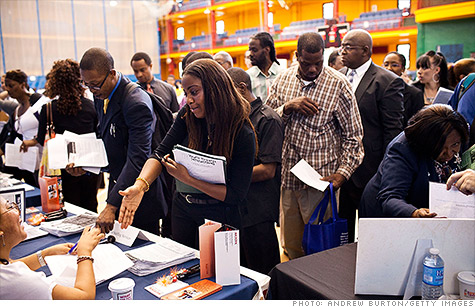 Job seekers in New York.
NEW YORK (CNNMoney) -- The number of Americans filing for first-time unemployment benefits climbed last week, indicating continued trouble for the labor market.
The Labor Department reported Thursday that 386,000 people filed new jobless claims in the week ended June 9, up 6,000 from the previous week's revised figure.
That was 11,000 more than expected. Economists surveyed by Briefing.com had forecast 375,000 people would file new claims.
Initial claims are a volatile number. But because they're closely correlated with layoffs, economists consider them to be a key gauge of the job market.
Nearly 3.3 million people filed for their second week of unemployment benefits or more in the week ended June 2, the most recent data available. That number was down 33,000 from the previous week.
Two weeks ago, the government released a May jobs report that indicated job growth is slowing sharply.
Mark Vitner, a senior economist at Wells Fargo, said the worse-than-expected jobs numbers released Thursday are a sign that economic growth may slow in the second half of the year.
"There is really no getting away from the point that things are slowing, the economy is slowing," Vitner said.
The dour outlook is partially attributable to headwinds from Europe, Vitner said.
"Now that the global economy is slowing, companies in the U.S. are becoming much more cautious about expanding," he said.