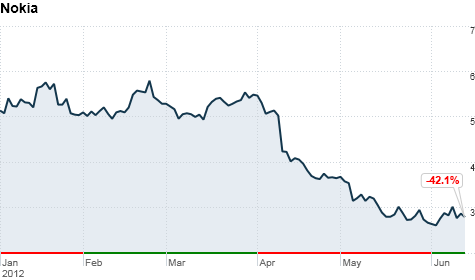 Click on chart for more information on Nokia stock
NEW YORK (CNNMoney) -- Nokia said Thursday it will cut up to 10,000 jobs worldwide by the end of next year, part of an accelerated cost reduction program at the Finnish cellphone maker.
The company also warned that increased competition in the smartphone sector would hit its financial results in the second and third quarters, causing its operating loss margin to be bigger than previously forecast.
U.S. shares of Nokia (NOK) fell 8% in premarket trading. Even before that latest plunge, shares had fallen 42% so far this year.
"These planned reductions are a difficult consequence of the intended actions we believe we must take to ensure Nokia's long-term competitive strength," said Nokia CEO Stephen Elop, in a statement.
As part of its cost reduction efforts, Nokia plans to close research and development facilities in Germany and Canada.
Nokia said it plans to focus more on the development of its Lumia phone. The Lumia, which uses a Microsoft (MSFT, Fortune 500) operating system, is Nokia's attempt to take on Google (GOOG, Fortune 500) and Apple (AAPL, Fortune 500) in the cellphone market.
Besides the challenge of going up against Apple, the world's most valuable company, Nokia faces greater challenge from the deep pockets of Google, which last month closed a $12.5 billion purchase of Motorola Mobility
In the first quarter of this year, Nokia lost the title of world's largest cell phone company to Korean rival Samsung, ending a 14-year reign on top of the industry. It also had credit rating agency Standard & Poor's and Fitch downgrade its debt rating to "junk" in April.
But Nokia has been losing ground steadily for years, with shipments down nearly 30% since their peak just after Apple's iPhone first went on sale in 2007. Nokia was the smartphone leader as recently as a year ago, but it has since fallen to a distant third place. And the smartphone category is forecast to be the only part of the cell phone market to grow this year.
Nokia is not the only cell phone company struggling with the new competition. Blackberry maker Research in Motion (RIMM) has hired Wall Street firms to consider its strategic options, which generally means it is considering a sale of the company, and it is plans deep cost cuts that could eliminate jobs.
-- Staff writer David Goldman contributed to this report