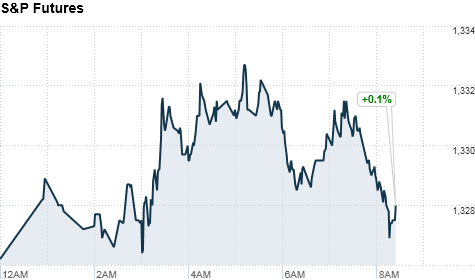 Click on chart to track premarkets
NEW YORK (CNNMoney) -- U.S. stocks were poised to follow global markets higher as central banks in Europe signaled they would provide more cash to help banks deal with the ongoing sovereign debt crisis.
The Dow Jones industrial average (INDU), S&P 500 (SPX) and Nasdaq (COMP) futures were moderately higher Friday morning. Stock futures indicate the possible direction of the markets when they open at 9:30 a.m. ET.
After markets in Europe closed for trading on Thursday, Bank of England Governor Mervyn King said the central bank and the Chancellor of the Exchequer are working on new policies to provide funding to banks for "several years" at rates below current market rates.
And on Friday, European Central Bank President Mario Draghi said the bank would "continue to supply liquidity to solvent banks where needed." He said strengthening European economies is crucial, and that it's time to implement plans to spur long-term growth.
Still, trading could be volatile Friday, as investors brace for the crucial Greek elections this Sunday.
"In reality, very few are willing to take big positions ahead of the Greek elections and a big week ahead full of policy and leadership meetings," wrote Deutsche Bank analysts Jim Reid and Colin Tan, in a research note.
The concern is that anti-austerity political parties in Greece will win enough seats in parliament to derail the bailout program secured earlier this year. This, in turn, could lead to Greece exiting the euro.
Outside of Greece, sky-high borrowing costs in Italy and Spain still have investors on edge.
Last week, Spain asked for €100 billion from the European Union to provide a buffer for its ailing banks. But the country was hit by a downgrade by rating agency Fitch last week and Moody's on Wednesday. Both agencies warned the country's debt is at risk for further downgrade into junk bond status.
The yields on Spanish 10-year bonds improved slightly Friday, falling to 6.83% from the high just above 7% early Thursday.
In the United States, reports are due Friday on manufacturing, industrial production and consumer sentiment.
The phenomenon known as quadruple witching is also occurring on Friday. That's when the contracts for stock futures and options, as well as stock options and single stock futures, all expire.
U.S. stocks closed sharply higher Thursday on hopes of additional stimulus from central bankers.
Economy: The Empire State Manufacturing Index plummeted to 2.3 in June, according to the Federal Reserve Bank of New York, down from 17.1 in May. The index was expected to stand at 13.5, according to a consensus of economist forecasts from Briefing.com.
The University of Michigan Consumer Sentiment Index for June is expected to come in at 77.0, down from 79.3 in the month prior.
Companies: Shares of Apple (AAPL, Fortune 500) were up 0.2% in premarket trading, after Bloomberg reported Apple would share in ad revenue from Chinese company Baidu (BIDU). The company's search engine was added as part of a software upgrade for iPhones.
Microsoft Inc. (MSFT, Fortune 500) has bought social network Yammer for $1.2 billion, according to news reports. Microsoft was not immediately available for comment.
World markets: European stocks were all higher in midday trading. Britain's FTSE 100 (UKX) added 0.3%, while the DAX (DAX) in Germany rose 1.1% and France's CAC 40 (CAC40) gained 1.6%.
Asian markets were mostly higher at the close. The Shanghai Composite (SHCOMP) rose 0.5%, the Hang Seng (HSI) in Hong Kong jumped 2.3% but Japan's Nikkei (N225) edged up only 0.01%.
The Bank of Japan decided to keep its rates steady - close to zero - and not take additional easing measures.
Currencies and commodities: The dollar rose slightly against the euro and British pound, but slid against the Japanese yen.
Oil for July delivery edged up 13 cents to $84.04 a barrel.
Gold futures for August delivery rose $10.80 to $1,630.40 an ounce.
Bonds: The price on the benchmark 10-year U.S. Treasury rose, pushing the yield down to 1.61% from 1.63% late Thursday.