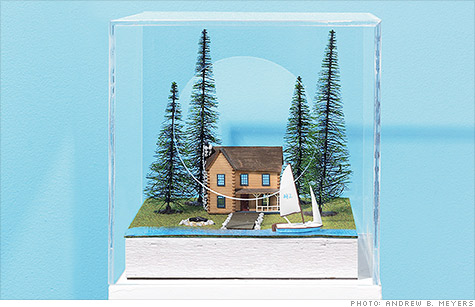 (MONEY Magazine) -- This winter, when temperatures outside his home in upstate New York were dipping into the single digits, Larry Posselt, a small-business owner and father of three, paid $99,000 in cash for a three-bedroom, three-bath Florida townhouse eight miles from Disney World.
After years of decline, "prices in the area were starting to trend up," says Posselt. His new vacation home, which sold for $270,000 in 2006, should earn enough rent to pay for itself in less than five years.
While the real estate market as a whole is still weak, realtors in vacation-home hotspots say that many people, like Posselt, can no longer resist the lure of a second-home deal.
"Buyers who were on the fence are going for it," says Lake Tahoe area agent Brandon Yee.
With rates and prices still low, jumping in can make sense as long as you know the place is one you'll want to return to year after year and you can collect the amount of rental income you need. Take these steps to make sure.
Size up the market
Some vacation-home markets are on the cusp of recovery, which may not yet be reflected in sales prices. Ask a local realtor to calculate the supply of homes available now and six months ago by dividing the number of listings by the average number sold in the previous 12 months. If that number has shrunk, prices are likely to head up soon, says Ketchum, Idaho, real estate broker Dan Gorham.
Also keep in mind that home prices in vacation destinations often rise and fall alongside their nearby major markets. If the economy is improving in San Francisco, for example, that bodes well for Lake Tahoe. You can look at the Bureau of Labor Statistics' job growth stats by state and metro area.
Assess the rental prospects
The average vacation home rents for 19 weeks a year, according to HomeAway. That doesn't mean yours will. Ask a real estate agent or property manager for a history of rental dates and rates for the property itself or comparable places.
Close to tourist attractions? You're likely to command a premium rate, says HomeAway vice president Jon Gray.
Are the style and décor of the home in line with what people expect of the area?
In the Sierra Nevada, for example, "a ranch-style house that could be anywhere in California isn't going to be as popular as a chalet," says Yee.
Next, look at the layout. Ideally there's one bathroom for every bedroom; big kitchens and common areas do well too.
While you can expect to pay about 1% of the home's cost per year for maintenance, a finicky furnace or septic system can wipe out a year's rental income in a flash. So focus on newly built properties or ones that have been recently remodeled, says Gray.
Figure out financing
Recently some 40% of vacation homebuyers opted to pay cash.
Many may have no choice, says Quicken Loans chief economist Bob Walters. Some of the best bargains, such as foreclosed homes or condos in hard-hit developments, are tough to finance.
That said, it's a good idea to get a loan if possible, says San Mateo, Calif., financial planner Barbara Steinmetz. Given how low rates are, you are likely to get a higher return by putting your cash elsewhere.
Keep in mind that lenders often require as much as 25% down on investment property, and you'll pay up to one percentage point more in interest than you would on a loan for your primary home.
Add up all the costs
Besides mortgage, property taxes, insurance, homeowner association dues, utilities, and maintenance, you may need to knock at least 15% off your rental income for a property manager.
If you're renting the place out for more than 14 days a year, you'll be able to deduct expenses related to the rental, but you'll owe income tax on any profit.
Finally, factor in the cost and hassle of getting to your retreat. Unless you have a surplus of frequent-flier miles, stick with locales you can reach with a cheap flight or an easy drive.
After all, says Steinmetz, "there's no point owning a vacation home you can't afford to visit."
Do you know a Money Hero? MONEY magazine is celebrating people, both famous and unsung, who have done extraordinary work to improve others' financial well-being. Nominate your Money Hero.