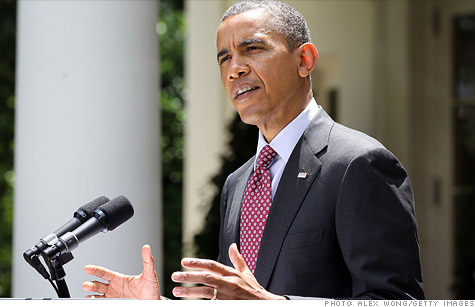 Obama on Friday announced the government would stop deporting some young immigrants here illegally. Companies welcomed the move, which could give thousands of workers legal status for jobs.
NEW YORK (CNNMoney) -- Business leaders welcomed President Obama's decision on Friday to halt deportations of some young immigrants, saying it will let them offer jobs to previously untapped workers.
As the president did in his speech, they also acknowledged that the measure, which provides a two-year shield from deportation for immigrants brought here illegally as children, is only a temporary fix to the nation's immigration problems.
Luis De La Cruz said he can't wait to hire at least one to help his Phoenix-based Andale Construction company build a five-story U.S. Marine Corps barracks in Camp Lejeune, N.C.
"It gives us an opportunity to invest in the future of our youth and provide them an opportunity to be gainfully employed," he said. "It starts with education, but everybody needs to have a chance to obtain a job, pay taxes, earn their way through and be part of America's fabric."
The Obama administration move specifically targets so-called Dreamers, immigrants who entered the country illegally as children, often with their parents. The name derives from the Dream Act, legislation Obama has long pushed for that would provide a path toward residency. It has failed in Congress.
Friday's decision falls short of providing amnesty the way the Dream Act would, but it uses similar guidelines: Applicants must be under 30, have come to the United States before turning 16, have lived here for at least five years, have a generally clean record and be in school, graduated or served in the military.
Approval provides a two-year shield from deportation, after which it must be renewed. But in the meantime, participants can seek permission to work here.
The Migration Policy Institute reports as many as 1.4 million could be affected, and senior Obama administration officials estimate 800,000 will come forward and apply for protection and work authorization.
For some, the order means more than just a job.
Carlos Ferron, a computer network consultant in Phoenix, farms out work to 16 independent contractors. New protections will let him hire three of them and offer health and other benefits.
"People don't have to live in the shadows. They can grow with our company and move forward," Ferron said. "For us as small business owners, to have the opportunity to participate in that is great."
Still, he remains skeptical of the Obama administration, saying that halting deportations does little to address immigration's bureaucratic maze. Families separated by previous deportations are still years away from reuniting because of laws Ferron calls "too heavy-handed for some and too broad for others."
"One has to wonder, why now? Why not two years ago?" he asked. "If this would have been done a lot sooner, we could have avoided a lot of suffering."
In the president's remarks Friday at the White House, he did not address why this wasn't tried sooner. However, he did criticize Congress for not passing the Dream Act and asked lawmakers to enact comprehensive immigration reform.
"Giving certainty to our farmers and our ranchers, making sure that in addition to border security, we're creating a comprehensive framework for legal immigration -- these are all the right things to do," Obama said.
The president's order drew criticism from some in the farming community of Arizona's Yuma County, which lines the southern border with Mexico. Doug Mellon, who largely relies on legal foreign workers to tend to his 5,000 acres of lettuce and broccoli, called it yet another temporary fix for a long-term problem.
"We need a good legal program for the workers that come across the border each day," Mellon said.
But some companies said that even Friday's limited action will help.
Chicago-based IT consultant ThoughtWorks is hoping to tap into the group of young Dreamers to grow its nearly 2,000-person workforce.
"This is a great opportunity to expand our talent pool and hire motivated people who are eager to contribute to American society," said Roy Singham, the company's chairman.