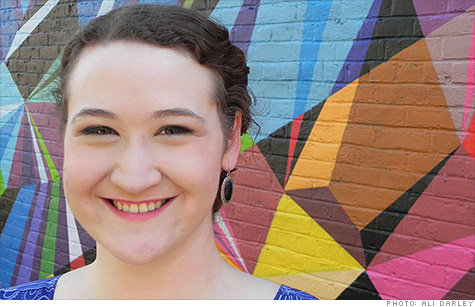 Like many young adults, Liz Wilson, 25, worries that she won't be able to afford health insurance if the Supreme Court strikes down the Affordable Care Act.
NEW YORK (CNNMoney) -- Millions of young adults have turned to their parents' health insurance plans since the Affordable Care Act went into effect. For Liz Wilson, and many others her age, it was the only option.
Wilson, 25, gets health care for a chronic stomach and pancreas problems through a provision in the law that lets young adults stay on their parents' insurance plans until age 26.
After graduating from college in 2010, she took a temp job in Cincinnati that doesn't offer benefits. A key piece of the Affordable Care Act went into place the following September, allowing her to get coverage for her mounting medical bills under her parents' plan.
"I have to keep a close eye on things, which requires a lot of doctors' visits and maintenance medicines," Wilson said. "Without health reform, I'd really have to ask myself what I'd do."
That's a question Wilson may have to answer, since the Affordable Care Act is currently under review by the U.S. Supreme Court and could be struck down. (Read: Justice suggests 'sharp disagreement' over tough cases)
The legal dispute is centered around the individual mandate provision, which requires most Americans to buy health insurance or face financial penalty. While the mandate is separate from the provision that protects young adults, the court could strike down the entire legislation.
This could leave millions of young adults uninsured. About 2.5 million 19-to-26-year-olds obtained health coverage as a result of the provision, the U.S. Department of Health and Human Services estimated in December. Most have had a hard time getting employer-sponsored coverage in a down economy.
As a new business owner, Meredith Fineman, 25, would have to buy her own plan if the law gets struck down. She started her own public relations firm in Washington, D.C., in October, and stayed on her mom's plan has allowed her to invest her savings into her new venture.
"It would be a huge expense for me as a small business owner, in my first year of business," Fineman said. "It's the final piece of my financial independence puzzle, but it's a big one. I'm lucky that I've been able to have it thus far because I know how much money it will be."
Fineman may be in luck even if the Supreme Court overturns the law.
"Given the popularity of the provision and the relatively low risk and low expenditures associated with it, I believe that many health plans, even if the law is overturned, will continue to allow dependents to stay on the parents' plan," said Dr. Mark Fendrick, director of the University of Michigan Center for Value-Based Insurance Design.
Some of the nation's largest insurers, including UnitedHealth (UNH, Fortune 500) and Humana (HUM, Fortune 500), have already promised to continue to cover young adults regardless of what the Supreme Court decides.
For insurance companies, it's good business. Insuring young adults brings in a new demographic, said Rachel Garfield, associate director of Kaiser Commission on Medicaid and the Uninsured, since most in the age group would forgo coverage altogether if it weren't for the law.
If the provision is struck down, "It's likely [young adults] will go back to them being uninsured," she said, "because buying insurance on their own can be expensive."
The nationwide average premium for individuals in 2010 was $215 per month, the Kaiser Family Foundation reported.
That's too much for many 20-somethings. Maya Orchin, a 24-year-old professional dancer living in New York City, says the cost of buying insurance isn't worth it for her if the court rules that she can't stay on her parents' plan.
"It would be really scary, especially because I depend on my body for my job," she said. "But ... I'm relatively healthy and thankfully don't have any injuries that I need to get checked for, so it's not where I'd put my money."
The choice to go without insurance would be a bigger burden for young adults who do need regular medical attention. For Liz Wilson, going without insurance would mean racking up tens of thousands of dollars in bills. Her family hit its annual out of pocket maximum of $9,000 by mid-February of this year, she said.
"I couldn't pay for those bills, but I'd need a very high-risk plan, which would be more expensive than I can afford," she said. "That's why I'm not going back to graduate school, because I need to find a full time job with benefits."
Medical bills are holding many young adults back, forcing them to choose between investing in their health and investing in their future.
A Commonwealth Fund survey found that 31% of young adults with medical debt said they delayed education or career plans because of their bills.
"That's why I'm relying on the provision," Wilson said. "That's why I really hope it doesn't get overturned."