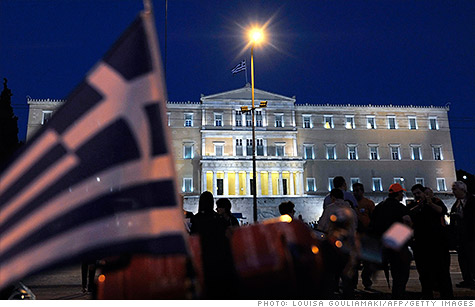 Pro-bailout party New Democracy wins most votes in parliamentary election. But it remains to be seen if it can form a viable government given the deep anti-austerity sentiment.
NEW YORK (CNNMoney) -- A pro-bailout party in Greece won the most votes in Sunday's parliamentary election, which could ease any immediate concerns about the nation's future participation in the euro area.
But it remains to be seen if the party, New Democracy, can form a viable government supporting the bailout given the deep anti-austerity sentiment in Greece.
Meanwhile, the clock is ticking on some key deadlines.
The government must identify additional budget cuts by the end of June to comply with the terms of its bailout program. If it fails to do so, analysts say the European Central Bank could cut off funding to Greek banks, which have already been drained of cash as deposits flee the country. (Related: Euro 'firewall' not big enough)
In addition, Greece is facing a €3.9 billion bond redemption in August.
The nation's economy is in deep decline, and analysts say Athens is in danger of running out of the money it needs to pay for basic necessities, such as fuel and medical supplies.
New Democracy, one of the parties that agreed to the terms of Greece's bailout earlier this year, won just over 30% of the vote, according to official tallies.
The radical left-wing Syriza party, which has threatened to renege on the bailout agreement, came in second with 27% of the vote.
The Socialist Pasok party, run by former finance minister Evangelos Venizelos, the government's lead negotiator in the bailout negotiations, won about 12% of the vote.
Sunday's election was a repeat of an earlier vote on May 6, in which the rise of Syriza was viewed as a rejection of austerity measures Greece committed to under its second bailout agreement. New Democracy and Pasok, which have run Greece for decades, were punished by voters for signing off on the bailout agreement struck in March.
Under the Greek constitution, New Democracy, as the top vote-getter, will have three days to negotiate a coalition government. If it fails, Syriza would be given the same three-day deadline, followed by Pasok. If all three parties fail, as they did in May, the Greek president will attempt to broker a compromise.
Analysts say New Democracy could cobble together a government with Pasok and another party called Democratic Left. But any coalition formed under these circumstances would have a weak mandate and could face resistance in parliament.
"The bottom line is that Greeks do not want to be part of the single currency area under the present terms and conditions," said Nicholas Spiro, director of Spiro Sovereign Strategy. "This was a vote against the current bailout agreement and against the austerity-focused policies favored by Germany."
And while the Greek economy is small, the fear is that continued political paralysis could result in Greece exiting the euro currency union.
"The big picture item is contagion," said Jay Bryson, chief global economist at Wells Fargo, who was traveling in Europe Friday. "I don't think this euro crisis is over."
The immediate concern is that Greek banks could be cut off from ECB funding. A banking crisis in Greece could undermine the already fragile Spanish banking sector. That would turn market attention to Italy, which is under pressure to reform its economy and get out of debt.
The spread of financial turmoil to Italy is particularly worrisome. Italy is the third largest economy in the eurozone and its government bond market is estimated at €1 trillion.
"The biggest concern is contagion spreading to Italy," said Jeffrey Bergstrand, a finance professor at the University of Notre Dame.
While the Italian government has made progress on key economic reforms, some investors fear that Italy is still at risk of needing a bailout. That would likely overwhelm Europe's crisis resources and could bring down the euro currency union.
Given that threat, many experts say EU leaders would act aggressively to support Italy.
"The ECB clearly has the resources to preclude any further bank runs and would intervene if rates get out of control," said Bergstrand.
The ECB could provide additional liquidity to banks or buy more government bonds. The central bank is widely expected to lower interest rates at its next policy meeting in July.
However, ECB President Mario Draghi has said the central bank cannot make up for a lack of action by government leaders. He has called on EU leaders to strengthen the European financial system by forming a so-called banking union.
"The ECB will be loath to act before it is sure what political decisions will be taken, domestically and by the eurozone as a whole," said Andrew Milligan, head of global strategy at Standard Life Investments.
Banks in the United States have very little exposure to Greece, and experts say the exposure to Spain and Italy is manageable. But U.S. banks would not be immune if contagion spreads to banks in Germany and France.
"U.S. banks have indirect exposure, but in the context of a financial crisis, those indirect exposures become very important," said Bryson.