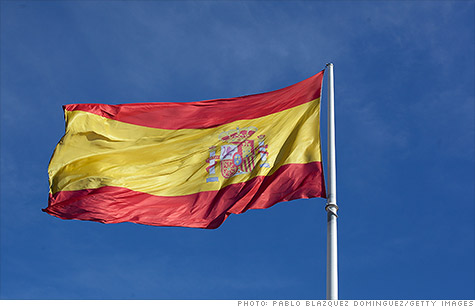 Spain's banking and debt problems have moved to the center of the European sovereign debt crisis.
NEW YORK (CNNMoney) -- With Greece's election over, the concern of investors and economists has shifted to the larger Spanish banking and sovereign debt crisis.
The fourth largest economy in the eurozone, Spain has already asked for €100 billion ($125.8 billion) in assistance from the EU rescue fund to recapitalize its banks. Other European countries have voiced support for such a bailout in a effort to keep the problems at Spanish banks from spreading to other nations.
But the depth of the nation's crisis has raised doubts about whether €100 billion will be enough to recapitalize the banks. For example, the Bank of Spain, the nation's central bank, released data Monday showing that "doubtful" loans -- those that are more than 3 months overdue -- rose to €152.7 billion in April, equal to 8.7% of all the loans held by the nation's banks.
The volume of troubled bank loans has soared by nearly a third in the last year as Spain has fallen into a deep recession.
"I think people have problems accepting numbers on the bailout request," said Elisabeth Afseth, fixed income analyst for Investec in London. "The €100 billion may or may not be enough."
Banco Santander (SAN) and BBVA (BBVA), the two largest banks, both had shares plunge more than 4% in Madrid and 5% in New York trading. The Spanish banks helped take Spain's IBEX composite stock index down nearly 3%, on a day that saw London's FTSE (UKX) and the German Dax (DAX) close narrowly higher, and the Paris CAC (CAC40) lose less than 1%.
The yield on Spain's 10-year bond soared to a euro-era high of 7.16%, a level that not only raises the nation's borrowing costs but is widely seen as unsustainable. But experts say there's little to bring rates down in the near term.
"If you didn't want to buy Spanish debt before the bank bailout, I see no reason why you would want to do so after," said Afseth.
That's because the Spanish picture is gloomy. Spain has record high unemployment of 24.3%, and more than half of all of its young workers are without a job. Spanish housing prices, which shot up in the warm weather coastal communities during the real estate boom, have been cut in half by the crisis.
Spain's sovereign debt, which was just under 70% of its gross domestic product in 2011, is now expected to rise to between 95% or 110% of GDP by 2015, according to estimates from the credit rating agency Fitch last week.
With Spain's debt already rated at the lowest level above junk bond status, it's not clear that the bank bailout will be enough help for the country's troubled finances.
A separate bailout of Spain's government debts, on top of its bank bailout, could reach at least €300 billion to cover its current refinancing needs and the operating deficit in the next few years, said Investec's Afseth.
Bank and sovereign bailouts of Spain totaling €400 billion would wipe out most of the remaining €557 billion in the existing European bailout fund -- not including the €223 billion already committed to help Greece, Portugal and Ireland.
And that level of help is in some question, as more than €500 billion of the money committed to the rescue fund has yet to be contributed by the more prosperous member nations.
On Sunday, the Institute of International Finance wrote a report to its members saying that the Spanish bank bailout by itself may deplete the bailout fund for all but the proposed rescue of a country the size of tiny Cyprus.
Which explains why Spain is now front and center among those worried about Europe and the world's financial system.