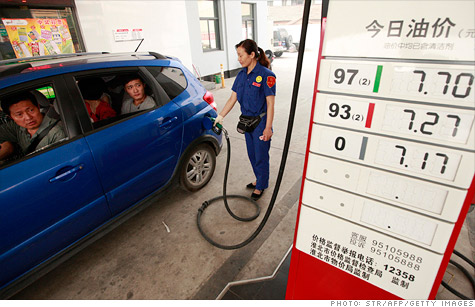 The United States isn't likely to sanction China over its purchases of oil from Iran for fear of starting a trade war.
NEW YORK (CNNMoney) -- China, now the world's largest buyer of Iranian oil, is also the only nation still threatened with U.S. sanctions because of its purchases of Iranian crude.
If the United States doesn't grant China a waiver, any Chinese entity that still buys oil from Iran could be banned from doing business in the United States.
But analysts say the Obama administration will likely grant the country a waiver rather than risk a trade war.
"We're unlikely to sanction China," said Robert McNally, head of the Rapidan Group, an energy consultancy. "We're not going to pick a trade war."
The United States and China have arguably the world's most important economic relationship. The United States imports vast amounts of cheap consumer good from China, and China relies on the U.S. market to sell those exports. A trade war would put that at risk.
Currently China's energy demands continue to increase along with its oil imports. But it's Iranian oil purchases are declining.
China currently imports about 400,000 barrels of oil a day from Iran, according to the Rhodium Group, which charts Iran's oil exports.
That's down from about 650,000 barrels a day just a few months ago. It's thought that the drop is due to a disagreement over prices between the two countries -- not any desire to comply with U.S. sanctions.
The Chinese have publicly called the U.S. sanctions illegal -- as they lack United Nations backing -- and have declared they have no intention of complying with them.
So far, 18 countries have sufficiently reduced their imports of oil from Iran to be exempted from U.S. sanctions, set to kick in June 28.
The U.S. sanctions would prohibit any bank, government, corporation or other entity that buys or helps finance a transaction involving Iranian crude oil from doing businesses in the United States.
What's really going on behind closed doors between the U.S. and China is a bit of a mystery.
Some say the Chinese are publicly defying the sanctions as a matter of principle, but will eventually reduce their imports to a level that puts them in compliance with U.S. demands.
Others say the United States has been planning on exempting the Chinese all along -- based on the big reductions the Chinese have made so far -- but didn't want to issue the exemption until after the latest round of talks with Iran, currently under way in Moscow.
"If they are helpful on the [Moscow talks], I don't see why they won't get a waiver," said Frank Verrastro, director of the Energy and National Security program at the Center for Strategic and International Studies.
But not everyone is convinced that China can avoid being sanctioned. Trevor Houser, an analyst at the Rhodium Group, said China sanctions are within the realm of possibility.
Houser said if China were to flout U.S. demands and not reduce their imports from Iran, they would finance the purchases through a small bank that didn't do much business with the Untied States to begin with -- thereby limiting any impact sanctions might have.
Worldwide, Iran's oil exports have gone from about 2.2 million barrels a day to about 1.7 million barrels a day, as U.S. and EU-imposed sanctions over Tehran's nuclear program begin to bite. It's thought the sanctions might ultimately take a million barrels a day of Iran's oil off world markets by the end of the summer.
Western nations fear Iran's nuclear program is intended to produce a bomb. They have implemented the sanctions as a way to force Iran to curtail its uranium enrichment program.
Iran says its nuclear program is only intended to produce electricity.