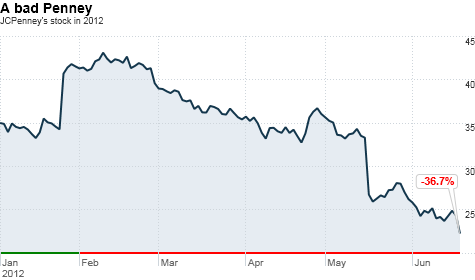 Click the chart for more info on JCPenney's stock.
NEW YORK (CNNMoney) -- Shares of retailer J.C. Penney plunged 8.6% Tuesday, as the departure of its president after less than nine months on the job cast fresh doubts on the company's new marketing strategy.
The drop sent J.C. Penney (JCP, Fortune 500) shares to $22.25 at Tuesday's close, down 36.7% year to date.
The company announced late Monday that Michael Francis, who was wooed away from rival Target (TGT, Fortune 500) in October with great fanfare, had left the company effective immediately.
Francis and new CEO Ron Johnson had been leading the effort to change the marketing focus at J.C. Penney. In February, it announced what it called "Fair and Square Pricing," which aimed to attract customers with continually low prices rather than traditional sales.
The company said Johnson, who made his reputation as the head of Apple's (AAPL, Fortune 500) very successful retail operation, will assume Francis' marketing and merchandising duties.
But the new marketing strategy has been off to a rough start. The company disclosed last month that same-store sales plunged 19% in the fiscal first quarter, and that online sales tumbled 28%. It also reported a much bigger than expected loss and suspended its dividend.
The executive shakeup raised alarms on Tuesday.
"This surprise announcement is a catastrophic blow to the bull case on JCP," said Charles Grom, retail analyst with Deutsche Bank, in a note to clients. "The lack of continuity within the [executive offices] has to be a concern considering the company is only at the outset of its turnaround effort.
"We're afraid the environment [at Penney's headquarters] has become 'Ron's way or the highway,' which is never a good culture for a company trying to find itself," he concluded.
But the move was praised by Penney's largest institutional shareholder, Bill Ackman, chairman and founder of hedge fund Pershing Square Capital Management, which owns 18% of the company.
"It was the right decision," he told CNNMoney Tuesday. "The company has had difficulty communicating its marketing message. Ron [Johnson] felt the need to personally take over that area of responsibility. I think it's the right decision, and I have enormous confidence in Ron."
Ackman said Penney will be changing and fixing its marketing strategy. He said he's not become any less bullish about the stock despite its problems so far this year.
"I liked it at $30. I've got to like it at $22," he said.