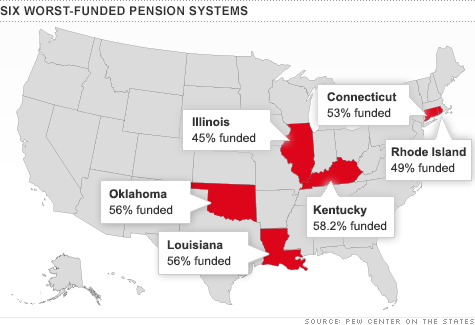 NEW YORK (CNNMoney) -- States' pension problems are growing worse ... and all taxpayers will likely feel the consequences.
The gap between what states owe in retirement benefits and what they have set aside, grew to $1.38 trillion in 2010, according to new data published by the Pew Center on the States."
Pensions accounted for $757 billion of the shortfall, while retiree health care and other benefits, such as life insurance, made up the remaining $627 billion.
While the stock market decline has been a key driver in the growth of unfunded liabilities, states have also dug themselves into a deeper hole by not making the required contributions to pension accounts.
Policymakers made only 78% of the recommended contribution toward their state pension plans.
And while states don't have to prefund retiree health benefits, actuaries recommend that they do. Still, states only set aside 34% of the suggested contribution to these accounts.
"While the economy and state revenues are improving, states are still struggling to manage the bill coming due for promised benefits," said David Draine, senior researcher at Pew.
That struggle will likely affect more than just policymakers and public employees. Every dollar officials have to set aside for retirement benefits is a dollar that could be spent on roads, schools and other public services.
And because officials have been skimping on contributions in both good economic times and bad, they'll have to set aside even more for retirement benefits in coming years, the Pew study found.
"This problem has been building up for a period of time," Draine said, adding states can't count on the stock market to bail them out.
The collapse of pension funding has been widespread across the nation, though no state is in danger of defaulting on its obligations.
In 2000, states were in much better shape, with more than half fully funded.
But a decade later only Wisconsin remained on that list.
Pension plans in 34 states were less than 80% funded, which is the recommended threshold. Four states -- Connecticut, Illinois, Kentucky and Rhode Island -- were less than 55% funded.
Retiree health benefits were in even worse shape. As of 2010, they had put away only 5% of the total expected bill.
Only seven states have funded 25% or more of their retiree health obligations, while 17 have saved nothing. States usually pay health care costs and premiums for retired workers when they incur those expenses.
Many states, however, aren't sitting idly by watching the chasm widen.
Between 2009 and 2011, 43 states have enacted benefit cuts, increased employee contributions or both. They've increased the retirement age or years of services needed to qualify, limited the annual cost of living increase or changed the formula needed to calculate benefits to provide smaller checks.
Most of the changes apply to future retirees, though 10 states have frozen, eliminated or trimmed cost of living increases for current retirees. This has prompted legal challenges. Judges in Colorado and Minnesota have upheld the cuts, though the cases are still pending in other states.
Soaring health care costs and new accounting standards are forcing states to rethink how they provide these benefits. At least 11 states have made changes to them.
"A significant number of states have tried to deal with the bill coming due for their employees' retirement benefits," Draine said. "However, given the size of the problem, continued fiscal discipline and additional reforms will be needed to put states back on a firm footing."