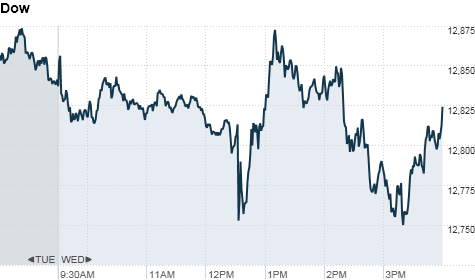 Click for more market data.
NEW YORK (CNNMoney) -- U.S. stocks closed mixed Wednesday after the Federal Reserve extended one of its stimulus programs but stopped short of announcing a more aggressive bond buying policy.
The Dow Jones industrial average (INDU) dropped 13 points, or 0.1%, to end at 12,824. The S&P 500 (SPX) lost 2 points, or 0.2%, to 1,355. The Nasdaq (COMP) added 1 point, or less than 0.1%, to 2,930.
The Fed announced plans to extend Operation Twist, the policy of swapping short-term Treasuries in the central bank's portfolio for bonds with a longer duration. The program, which was due to expire June 30, will continue through the end of 2012. The Fed expects to buy $267 billion worth of bonds.
The announcement comes as economic conditions in the United States have deteriorated, with slower than expected job creation weighing on consumer sentiment. In addition, the debt crisis in Europe continues to pose a significant threat to the global economy.
At a press conference Wednesday afternoon, Fed chairman Ben Bernanke said extending Operation Twist is a "substantive step" and that the central bank is "prepared to do what is necessary to provide support for the economy."
Meanwhile, the Fed lowered its outlook for economic growth this year and raised its forecast for the unemployment rate.
The cloudy economic outlook had raised speculation that the Fed would take more aggressive steps to stimulate growth, such as intervening directly in the bond market. But Wednesday's move falls short of the full-blown quantitative easing that many investors have been calling for.
"Bernanke didn't give the market what it wanted, but he gave it what it expected," said Quincy Krosby, market strategist with Prudential Financial in Newark, N.J.
The extension of Operation Twist was widely anticipated and telegraphed by Fed officials. But Bernanke disappointed traders who were hoping for a clear hint that more stimulus was imminent, said Krosby.
"Traders don't want to hear maybe," she said. "And this is a trader's market."
U.S. stocks finished up about 1% Tuesday, as investors signaled hope for some Fed action.
CNNMoney's Fear & Greed index shows investors becoming less fearful, although the reading remains in "fear" territory. Just last week, the index had been in "extreme fear" territory.
The Fed: The Fed lowered its forecast for 2012 economic growth to a range of 1.9% to 2.4%. In April, the growth outlook was between 2.4% and 2.9%.
At the same time, the Fed raised its forecast for the unemployment rate, predicting it will end the year between 8% and its current 8.2%.
The Fed's Open Market Committee also held interest rates near zero, where they've been since December 2008, in an attempt to boost the economy. The FOMC has said it plans to keep rates "exceptionally low" through late 2014.
World markets: European stocks ended higher. Britain's FTSE 100 (UKX) gained 0.6%, the DAX (DAX) in Germany edged up 0.4% and France's CAC 40 (CAC40) rose 0.3%.
Investors welcomed news that Greece has formed a coalition government, which is a step in the right direction, though the country still has a tough road ahead.
In a classic "sell on the news" move, shares of The National Bank of Greece (NBG) slid 9% and Global X FTSE Greece 20 ETF (GREK) lost more than 1%. Both stocks were up sharply over the past five days.
Greece has been a thorn in investors' sides for months, with fears about the country leaving the eurozone and the ripple effect on other sovereign nations sending global financial markets on a roller coaster ride.
Asian markets ended mixed. The Shanghai Composite (SHCOMP) slid 0.3%, while the Hang Seng (HSI) in Hong Kong added 0.5% and Japan's Nikkei (N225) gained 1.1%.
Economy: Oil prices slid after the U.S. Energy Information Administration's weekly crude inventories report showed an increase of 2.9 million barrels in the week ended June 16. Economists had expected a decline.
Oil for July delivery slid $2.97 to $81.06 a barrel.
Companies: Shares of Dow component Procter & Gamble (PG, Fortune 500) continued to fall as the maker of consumer products cut its sales and earnings guidance for the current quarter and the full year.
Shares of Adobe Systems (ADBE) dropped after the software maker lowered its guidance after Tuesday's close, citing "a weaker demand forecast in Europe."
La-Z-Boy (LZB)'s stock was lower after the company beat expectations in releasing its quarterly earnings.
Jabil Circuit (JBL, Fortune 500) shares got a boost after the contract electronics manufacturer reported improved earnings in line with forecasts.
Burger King (BKW) shares rallied after the fast-food chain debuted on the New York Stock Exchange for the third time.
Currencies and commodities: The dollar was down against the euro and the British pound but up against the Japanese yen.
Gold futures for August delivery dropped $7.40 to settle at $1,615.80 an ounce.
Bonds: The price on the benchmark 10-year U.S. Treasury fell, pushing the yield up to 1.66% from 1.62% late Tuesday.
-- CNN's Matthew Chance contributed to this article.