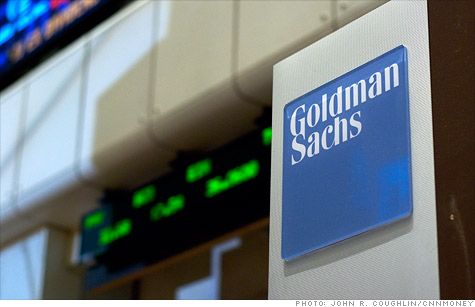 Shares of Goldman Sachs dropped 2.7% Thursday amid the downgrade rumors.
NEW YORK (CNNMoney) -- Some of the world's biggest banks were downgraded Thursday by rating agency Moody's, which cited concerns about the stability of the global financial system.
Moody's cut the ratings of 15 financial institutions after U.S. markets closed Thursday, including giants like Bank of America, Goldman Sachs and JPMorgan.
"All of the banks affected by today's actions have significant exposure to the volatility and risk of outsized losses inherent to capital markets activities," Moody's Global Banking Managing Director Greg Bauer said in a statement.
Moody's review of the banks, announced in February, was prompted by a "reassessment of the volatility and risks that creditors of firms with global capital markets operations face." Among the risks Moody's cited were "more fragile funding conditions, wider credit spreads, increased regulatory burdens and more difficult operating conditions."
The news comes amid continued anxieties over Europe's debt crisis and the havoc it could wreak on global markets.
The downgrades could raise costs for the banks, making it more expensive for them to borrow money.
They may also make it more difficult for the banks to sell their commercial paper to money market funds. Commercial paper is a form of borrowing that banks and other companies use to meet their short-term cash needs.
At the very least, downgrades are a source of concern for investors. Shares of major banks including Bank of America (BAC, Fortune 500), Goldman Sachs (GS, Fortune 500), JPMorgan (JPM, Fortune 500), Morgan Stanley (MS, Fortune 500), Citigroup (C, Fortune 500) and Deutsche Bank (DB) dropped between 1.7% and 3.9% in trading Thursday as downgrade rumors swirled.
Shares gained some ground back in after-hours trading, however. Morgan Stanley, in particular, rose 3.4% after hours, after Moody's downgraded it only two notches. In February, Moody's said the bank could face a three-notch downgrade, which would have significantly increased its costs.
Relief about Morgan Stanley likely spurred other financials higher in after-hours trading as well, said Eric Kolchinsky, an independent consultant and former managing director at Moody's.
"The system is still extremely inter-connected, so I think there was some concern that if something happened to Morgan Stanley, it could affect the other banks as well," Kolchinsky said.
Moody's grouped the 15 institutions downgraded Thursday into three categories based on their relative credit-worthiness.
In the strongest group are JPMorgan, HSBC and the Royal Bank of Canada, which Moody's said had solid capital buffers and "contained" exposure to the European crisis. Moody's also said these banks demonstrated solid risk management during the financial crisis.
In the second group are Barclays, BNP Paribas, Credit Agricole, Credit Suisse, Deutsche Bank, Goldman Sachs, Societe Generale and UBS. Moody's said these firms had varying risk factors, ranging from high dependence on capital markets operations to limited liquidity and exposure to Europe.
The weakest group includes Bank of America, Citigroup, Morgan Stanley, and Royal Bank of Scotland (RBS). Moody's said firms in this group had experienced problems with volatility and risk management, and in some cases had weaker buffers than their peers in the industry.
BofA and Citi are now rated just two notches above junk status, while Morgan Stanley sits three notches above.
Morgan Stanley said in a statement that the Moody's ratings "do not fully reflect the key strategic actions we have taken in recent years." Citi called its two-notch downgrade "arbitrary and completely unwarranted."
Royal Bank of Scotland, which was downgraded one notch, said it had made "significant progress in strengthening its credit profile since 2008."
JPMorgan and Deutsche Bank declined to comment, while Goldman and Bank of America did not respond to requests for comment.
The other major rating agencies, Standard & Poor's and Fitch, cut their ratings on some of the largest U.S. banks at the end of last year. Banks have been trying to assure investors that they're ready for any further downgrades ever since Moody's announced its review of the sector back in February.

Thursday's move follows action by Moody's on banks across Europe over the past few weeks, including ratings cuts of German and Austrian banks earlier this month and downgrades of banks in Denmark, Sweden and Finland at the end of May.
The ratings of institutions in nations facing the most serious sovereign debt issues -- namely banks in Spain, Italy and Greece -- have already been downgraded by most of the ratings agencies several times.
-- CNNMoney's Chris Isidore, Charles Riley and Ben Rooney contributed reporting.