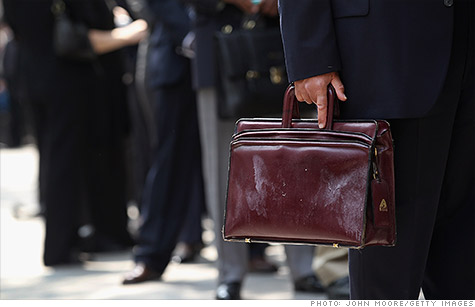 About 387,000 people filed new jobless claims last week.
NEW YORK (CNNMoney) -- Fewer Americans filed for their first week of unemployment benefits last week, but any glimmer of good news was cancelled out as the Labor Department also revised last week's figure higher.
About 387,000 people filed new jobless claims in the week ended June 16, down from the previous week's figure, which was revised up to 389,000, according to the Labor Department.
"There doesn't seem to be any improvement here. We seem to be going sideways," said Wells Fargo Chief Economist John Silvia.
Last week's number was particularly important, since it marks the week when the Labor Department interviews 60,000 households throughout the country, as it compiles its monthly jobs report.
Silvia estimates that at their current level, initial claims point to no improvement in the unemployment rate (which currently is at 8.2%) and a meager 70,000 to 100,000 jobs added in June.
That's not much better than May, when the economy added 69,000 jobs.
Jobless claims are a closely watched economic indicator, correlated with layoffs. Falling claims during the first three months of the year were seen as a welcome sign that the job market was improving.
But since March, jobless claims have been rising. They've been stuck in the 380,000 range for four straight weeks now.
Economists often look to a four-week average to smooth out choppiness in the numbers, and that too has been rising.
Meanwhile, 3.3 million people filed for their second week of unemployment benefits or more in the week ended June 9, the most recent data available. That number was barely changed from the week before.