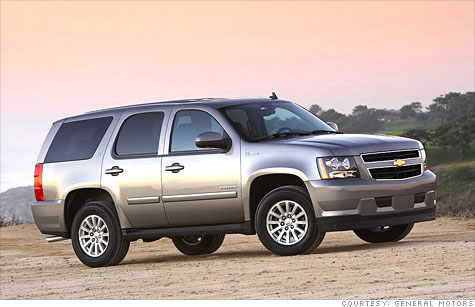 The Chevy Tahoe is among the vehicles produced in Arlington.
NEW YORK (CNNMoney) -- General Motors announced plans Friday to add a third shift at its SUV plant in Arlington, Texas, as the company continues to ramp up production after deep cuts during the financial crisis.
The additional shift will keep the facility running around the clock, and will generate roughly 800 additional jobs, GM (GM, Fortune 500) said.
The Arlington plant produces Chevrolet Tahoes and Suburbans, GMC Yukons and Cadillac Escalades. GM said demand for full-size SUVs remains "stable," though sales of the Escalade, Yukon and Tahoe are down so far in 2012 versus last year.
The big three U.S. automakers -- GM, Ford (F, Fortune 500) and Chrysler -- were forced to close plants and reduce production in the throes of the financial crisis.
"That kind of restructuring was entirely necessary in the crisis -- they were looking realign the cost structure and adjust to a new normal going forward," said Kristin Dziczek, director of the labor and industry group at the Center for Automotive Research.
Now, with auto demand coming back, "lots of companies across the board are adding shifts and adding third shifts," Dziczek said.
An advantage of third shifts is that they allow companies to ramp up production without constructing new facilities; if automakers need to scale back production, they can simply eliminate shifts.
GM's other three North American truck plants are already operating with three shifts, said Donna McLallen, communications manager at the Arlington plant. Overall, the company's North American operations are working at more than 100% of capacity, making heavy use of overtime and third shifts, GM spokesman James Cain said.
"One of the problems that made the industry fall on its face at the beginning of the recession was that there was just too much capacity relative to demand, and that made it very difficult to make money," Cain said.
"Now, we can operate very efficiently and we want to stay that way, so we'll be very conservative in constructing new facilities."
There are a number of factors working to help auto sales right now, including lower gas prices, improved access to credit, and strong used car prices, which help spur sales by improving the trade-in values for new car buyers. Years of depressed sales have also created some pent-up demand, as some buyers have deferred car purchases longer than normal.
U.S. auto sales increased 26% last month versus a year prior, although this growth was less than some analysts expected. The automakers need a strong U.S. economy to take full advantage of the factors working in their favor, and the weakness in employment have left the strength of the recovery in doubt.
As they work to recapture market share, U.S. automakers need to avoid the excessive production levels that characterized their pre-crisis business, said Laurie Harbour, the president of Harbour Results and an expert on automotive production.
"They're trying to stretch as much capacity as they can," she said. "I'm just concerned we're getting back in an overcapacity situation."