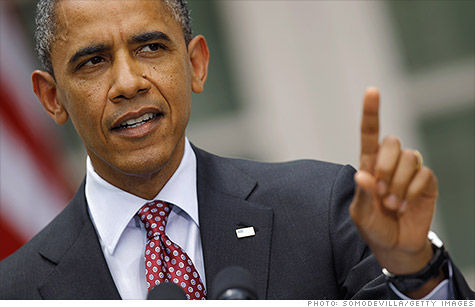 Spending has gone up a lot since President Obama took office - a fact that has become an election year talking point.
NEW YORK (CNNMoney) -- Is President Obama a big spender who has blown up the national debt?
Republicans say he is, and Democrats say he isn't. And they both use numbers and past presidents' records to make their point.
Trouble is, "you can make the numbers tell you what you want if you torture them enough," said Rudolph Penner, a former director of the Congressional Budget Office.
Here's what we know about spending and deficits during the Obama administration: They started climbing sharply in late 2008, even before he took office, and have remained high since.
In fact, both spending and debt have been far above their historical norms as a percent of GDP. Revenue, meanwhile, has been treading near 60-year lows.
But those numbers alone don't fully address the question. The context matters. Among the factors to consider:
1. Obama took office when the economy was sinking: Economic conditions were seriously deteriorating at the end of the Bush administration and descended into God-awful during the first year that Obama was in office.
For fiscal year 2008, which ended on Sept. 30, 2008, the country had racked up $459 billion in deficits, or 3.2% of GDP. In September, the world's financial system imploded and the U.S. economy's decline accelerated.
The country racked up $563 billion in deficits in the first four months of fiscal year 2009 alone. Bush was president for three and a half of those months.
For the whole of 2009, the deficit clocked in at $1.43 trillion, or 10.1% of GDP. The story improved only slightly for 2010.
Those eye-popping numbers arose in large part because Congress passed the $700 billion TARP bank bailout in October 2008 under Bush and then the $787 billion Recovery Act in February 2009 under Obama.
Safety-net spending on unemployment benefits, Medicare and Medicaid rose during that time. Tax revenue plummeted.
"It was entirely appropriate to increase spending in the recession," Penner said.
And since that kind of recession spending is intended to end, he added, "it doesn't tell you much about the long-term spending growth pattern for either [Bush or Obama]."
What's more, the fact that safety-net spending automatically rose during economic distress was to be expected no matter who sat in the Oval Office.
2. Tax cuts played a role in digging the fiscal hole: The story gets more complicated in fiscal year 2011. The economy was in the midst of a slow recovery and the deficit topped $1 trillion for the third year in a row.
While Republicans often blame the outsized deficits under Obama on spending, a key reason the 2011 deficit was so high was tax cuts.
Obama and the Republicans cut an $858 billion tax compromise that extended the Bush tax cuts for two years. It also enacted a one-year Social Security tax holiday and reduced the estate tax.
All told, the tax cut compromise added about $410 billion to the 2011 deficit, the CBO estimated.
3. When it comes to fiscal policy, no president is an island: That tax cut deal raises another factor to consider when judging Obama's spending record.
Congress and prior presidents have a big say in determining the budget policies of a sitting president.
For example, Obama walked into large increases in defense spending and veterans' health care because of the ongoing military efforts in Iraq and Afghanistan.
And no president has control over the interest spending required on debt that accrued over the country's history. Because of the outsized growth in debt during the past few years, this is an issue that will be a big one for future presidents.
"Assigning blame or credit to presidents ignores the fact that they must work with an entire Congress to pass legislation. [And] their budget can be significantly affected by the decisions of previous Congresses and presidents," the Committee for a Responsible Federal Budget noted recently.
4. Obama's future plans might be more telling: Given the economic circumstances Obama walked into, a better view on the question of whether he's a big spender may be in his 2013 budget proposal, Penner said.
Under Obama's 2013 proposal, spending as a percent of the economy would average 22.5% over the next decade, below where it's been in the past few years but above the historical average of 20.8%, according to the CBO.
Mandatory spending on entitlements would average 14.2% over the next decade, up from 13.5% today.
That increase is partly due to demographics.
"You can't blame Obama for the population aging," said Donald Marron, a former acting director of the Congressional Budget Office. The surge of baby boomer retirements is going to increase entitlement spending regardless of who is president.
And partly it's due to health reform -- Obama's signature piece of legislation.
The 2010 Affordable Care Act permanently increases entitlement spending because of a new insurance subsidy. But overall, it's estimated that health reform will reduce deficits modestly -- in the first decade -- because of cost-reducing measures and tax hikes.
Of course, there is concern that some of those cost-saving measures won't deliver as hoped.
Meanwhile, so-called discretionary spending under Obama's budget -- the money that goes to many of the government's most basic programs including defense -- would fall to the lowest level of GDP in 50 years, the CBO said.
That's in part because of spending controls put in place under the Budget Control Act, which Republicans pushed hard for.
So is Obama a big spender or not?
The political answer will always be yes for Republicans and no for Democrats. For independent budget experts, the political debate is not productive at a time when policymakers face truly pressing fiscal decisions.
Indeed, the Committee for a Responsible Federal Budget noted: "[T]he blame game is much less important than trying to find a bipartisan solution to our budget problems."