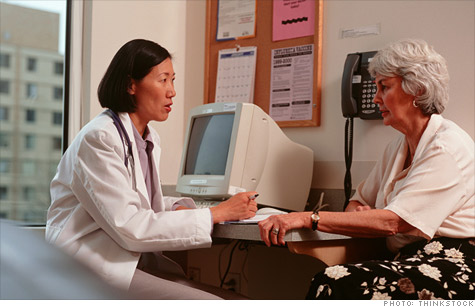 5.2 million Medicare seniors saved $3.7B on drug costs under health reform.
NEW YORK (CNNMoney) -- More than 5.2 million Medicare beneficiaries have saved a total of $3.7 billion on their prescription drugs since the health care reform law went into effect, the Centers for Medicare & Medicaid Services said Monday.
The Affordable Care Act -- also known as health care reform -- which passed in 2010 mandated financial relief for seniors who fall into Medicare's so-called "donut hole."
The Supreme Court is reviewing the constitutionality of the Affordable Care Act, and is expected to issue a ruling this week. The court could uphold the law, overturn it partially or completely strike it down.
The prescription drug coverage gap that develops when Medicare stops paying for drug coverage and patients can't afford to pay for drugs out-of-pocket is called the "donut hole."
As a result of health reform, Medicare beneficiaries who hit the donut hole in 2010 received a one-time tax-free $250 rebate to help pay for their prescription drugs.
The law also mandated that those Medicare beneficiaries who fell into the donut hole in 2011 because of high prescription drug costs got a 50% discount on covered brand-name drugs and 7% coverage of generics.
"The law is helping people with Medicare lower their medical costs, and giving them more resources to stay healthy," CMS Acting Administrator Marilyn Tavenner said in a statement.
The agency said Medicare coverage for generic drugs in the coverage gap has risen to 14% in 2012. CMS also said coverage for both brand name and generic drugs in the gap will continue to increase until 2020.
Also, the agency said that 745,000 seniors in the donut hole saved a total of $485.3 million on prescription drugs in the first five months of 2012, or an average of $651 in savings so far this year.
The health care reform law mandates that the donut hole be fully closed by 2020.