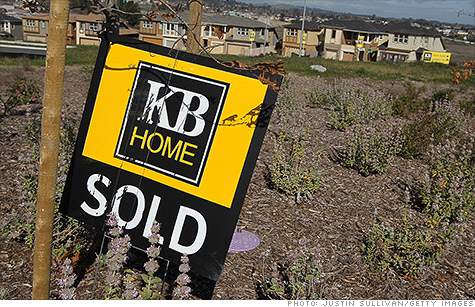 NEW YORK (CNNMoney) -- The housing market got some good news on Monday, as the government reported that sales of new homes rose 7.6% in May.
Sales hit an annual rate of 369,000, according to the Census Bureau, compared with the revised April rate of 343,000. That's up 20% year-over-year, but still a long way from the annual rate of nearly 1.4 million recorded during real estate's boom years.
The sales hike beat expectations. Economists had forecast a sales rate of 350,000 new homes, according to Briefing.com.
The uptick in home sales was in line with other recent positive reports in the housing market. In May, home builders applied for permits to build new homes at the highest rate since September 2008, and mortgage rates hit record lows last week.
But not all housing numbers looked rosier for the month. Existing home sales slowed slightly in May, slipping 1.5% versus the month prior.

Economists said that the numbers restored some optimism after the soft March and April numbers.
"This improvement indicates that 2012 will be a year of gradual growth for new homes," said Robert Dietz, an economist for the National Association of Home Builders. "It also means that we've seen the end of inventory that's climbed over the last couple of years."
Dietz explained that new home sales are a closely-watched barometer of how the economy is doing, since increases in construction translate into job creation.
"Each new home built represents three full-time jobs," he said. "That's just good for the economy overall."