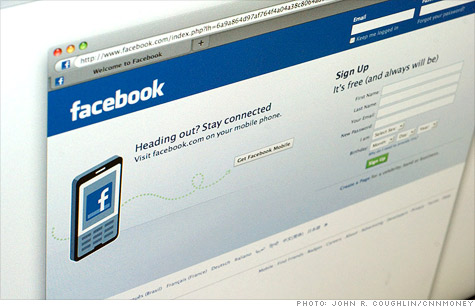 NEW YORK (CNNMoney) -- If you're a Facebook user, you have a @facebook.com email address, whether you use it or not. Facebook is now automatically posting those addresses to users' profiles and displaying them as the default email address.
Cue the backlash. Facebook told CNNMoney the change has been rolling out for "a few weeks," but many users weren't aware of it until a spate of blog posts and news articles began drawing attention to it on Monday.
"Speaking of hating your users. Facebook forces everyone onto its email system. Really, Facebook?! Really?!" tweeted freelance tech journalist Ron Miller.
Blogger Gervase Markham, one of the first to draw attention to the change, was scathing in his comments on it.
"Facebook silently inserted themselves into the path of formerly-direct unencrypted communications from people who want to email me. In other contexts, this is known as a Man In The Middle (MITM) attack," he wrote, referring to a tactic hackers use to intercept electronic messages. "What on earth do they think they are playing at?"
Facebook (FB) seemed surprised by the reaction.
"We basically defaulted to show your Facebook address as we rolled this out, just to keep it consistent for everyone," said Meredith Chin, Facebook's manager of product communications.
She repeated the word "consistent" several times in her attempt to explain Facebook's rationale for the change.
It's part of a relatively new "Timeline" profile set-up process that lets users change their privacy settings for each post displayed on their Timeline page. The e-mail move "is similar to that. It's an additional visibility setting," she said.
Users can change the setting and show whatever email address they like, but by default, the visible address will be @facebook.com.
The change hasn't hit all accounts yet, but it will roll out eventually to all of Facebook's 900 million users, Chin confirmed.
That means many users will start getting email messages at an @facebook.com account they might otherwise never use.
That's the kind of change Facebook users tend to get very angry about when they're not warned in advance -- and it's something Facebook has a bad habit of doing. The site is notorious for its "mess up and apologize" approach.
Chin couldn't elaborate on why Facebook didn't communicate the email change before it happened.
"We as a company know we're always under a microscope, but sometimes there are certain things..." Chin said, trailing off. "Well, you plan for everything to be as loud as possible. But sometimes things come up that we need to be better about."
How to fix it: Users who want to stop the @facebook.com address from showing up on their profiles can do so by editing their "Contact Info" sections.
You have two options for any email addresses associated with your Facebook profile: "shown on Timeline" or "hidden from Timeline." By default, Facebook is setting your @facebook.com address to be "shown on Timeline" and hiding the rest. To change that, switch your @facebook.com email address to be "hidden from Timeline," and set a different email to be "shown on Timeline."
Facebook may "write a post about this, if there continues to be some confusion around it," Chin said.
But an after-the-fact blog post probably won't calm angry users, and it certainly won't staunch the ink that's been devoted to Facebook's move -- or the philosophy behind it.
Many articles characterized the change as a ham-fisted way for Facebook to push its email system, which it first announced in in late 2010. At that time the company said its goal was to integrate conversations across multiple channels of communication -- text messages, Facebook chat, email, etc.
Forbes summed up the conventional wisdom on Monday with a simple headline on its post: "Facebook's Lame Attempt To Force Its Email Service On You."
Facebook, of course, doesn't agree with that assessment.
"I'm seeing this whole meme around the idea that it's us pushing for people only to use facebook.com addresses," Chin said. "That was not our intention. We want people to use whatever's easier for them."