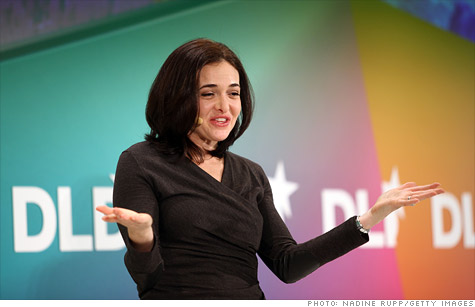 Four years after she joined Facebook, Sheryl Sandberg has finally landed a spot on the company's board.
NEW YORK (CNNMoney) -- Sheryl Sandberg finally cracked the ultimate boys' club: Facebook's board.
Facebook announced Monday that its chief operating officer has joined the company's eight-member board of directors.
"Sheryl has been my partner in running Facebook and has been central to our growth and success over the years," CEO Mark Zuckerberg said in a press release. "Her experience both at Facebook and on public company boards makes her a natural fit for our board."
Sandberg, who joined Facebook in 2008, is one of the company's most powerful executives. Her absence from Facebook's all-male board was often discussed in Silicon Valley, especially as Sandberg became a vocal advocate for women in the workplace.
"You can't expect to run a company and not have the perspective of your membership on your board -- I think that's really crucial," Mashable COO Sharon Feder recently said at an Internet Week panel that addressed the question of why Sandberg, who plays a crucial role at the company, wasn't on the board.
In speeches and press interviews, Sandberg frequently encourages young women be more aggressive in pursuing prominent roles in government and business.
Before landing the job at Facebook, Sandberg served as chief of staff for the Treasury Department and became a top executive at Google (GOOG, Fortune 500). She currently sits on the boards of The Walt Disney Company (DIS, Fortune 500) and several nonprofit organizations.
Zuckerberg recruited her to bring order to his fast-growing but sometimes chaotic company. She is widely viewed as his right-hand woman, running Facebook's corporate and sales operations while Zuckerberg focuses on product development.
Sandberg's new colleagues on Facebook's board include Netscape co-founder Marc Andreessen, Accel partner Jim Breyer, Washington Post Co (WPO). CEO Donald E. Graham, PayPal co-founder Peter Thiel, and Netflix CEO Reed Hastings, who joined the board in June of 2011.
The news comes one day before the publication of a book, "The Boy Kings: A Journey Into the Heart of the Social Network," that casts the company in misogynistic light.
In the book, which was excerpted Monday in the Wall Street Journal, Katherine Losse, one of Facebook's earliest employees, wrote, "I got it: If you couldn't handle the graffiti, or the unrepentantly boyish company culture that it represented, the job wasn't going to work out."