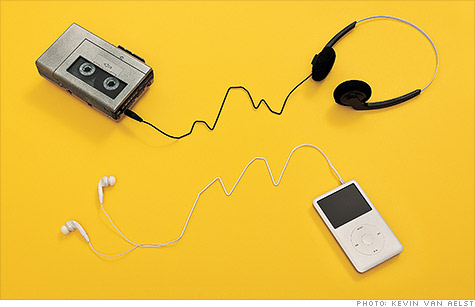 (MONEY Magazine) -- When you think of the 1980s, big hair, big shoulder pads, and Gordon Gekko-style big greed probably come to mind. Contrarian investor David Dreman says today's market reminds him of a slightly earlier period, the early '80s, shortly after he had set up shop, when individual investors had sworn off equities amid the worst market and economy since the Great Depression.
Back then, the only things big and bold on Wall Street were the scarlet power ties in fashion. Even though stocks had nearly doubled (including dividends) from 1979 to 1982, Dreman said, "investors wanted none of it," dumping stock funds for seemingly safer bonds and gold.
Sound familiar?
There's a key difference, however, between the markets 30 years ago and now. In the early '80s stocks were undeniably cheap, trading at a historically low price/earnings ratio of 7 based on past year profits. That paved the way for powerful gains for years to come.
By contrast, today's market, after doubling in three years, has gone from single-digit P/Es in early 2009 to nearly 14, close to the S&P 500's historical average of 16. The big question: Is it too late this time for investors to get off the sidelines?
To find out, MONEY interviewed value-minded money managers who were in business in the early '80s. Their conclusion: While prices are clearly higher today, you can find pockets that are undervalued, with the same prospects for long-term growth that the broad U.S. market offered 30 years ago -- if you think globally. Says Wintergreen Advisers head David Winters, who worked with famed value manager Michael Price in the '80s: "I feel like a kid in a candy store with a hundred bucks in my pocket."
The key, say these value-conscious market vets, is to focus on opportunities tied to emerging markets, where growth rates in excess of 4% rival the expansion of the U.S. economy in the '80s.
Industrial shares: As wages rise in fast-developing economies such as India and China, the labor savings generated by producing goods abroad is diminishing.
To play that, says John Osterweis, who founded Osterweis Capital Management in 1983, look at U.S. manufacturers that stand to profit as industrial activity moves back to American shores. Dreman agrees, noting that industrial shares' P/E of 13 is a 33% discount to their average. Meanwhile, earnings are expected to jump 12% in each of the next two years.
Dreman favors electrical-systems and power-equipment maker Eaton Corp. (ETN, Fortune 500); nearly 30% of its sales is from emerging markets, vs. 8% in 2000. Winters suggests Warren Buffett's Berkshire Hathaway (BRK.B) with big stakes in manufacturers like GE. It recently traded at a rare 20% discount to fair value, according to Morningstar, amid succession concerns.
Prefer a fund? Industrial Select Sector SPDR (XLI), with an expense ratio of just 0.18%, focuses on high-quality manufacturers that dominate their field, such as 3M.
Energy companies: Global energy demand is expected to grow nearly 40% by 2030, with more than 90% of it coming from the developing world. Dreman says energy exploration companies like Anadarko Petroleum (APC, Fortune 500) and Apache (APA, Fortune 500) will be big beneficiaries. While the stocks have been weighed down lately by concerns over the economy and falling natural-gas prices, he argues that they offer investors a cheap way to buy global growth.
Fund investors can buy in via Osterweis (OSTFX); its 18% stake in energy is more than double that of its peers. Plus, you get the stewardship of Osterweis, whose 30-year record has proved his ability to succeed in an '80s-style market -- and lots of other markets too.