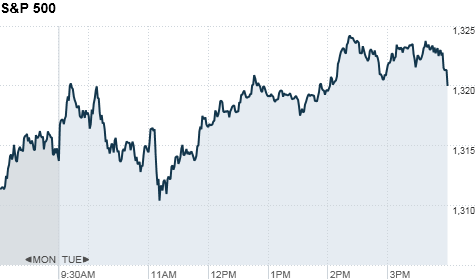 Click the chart for more stock markets data
NEW YORK (CNNMoney) -- Stocks held onto modest gains Tuesday, as investors remained cautious ahead of a key European summit later in the week.
"We're going to keep vacillating between being slightly up and slightly down until we see if anything positive comes out of Europe," said Peter Tuz, president of Chase Investment Counsel. "Investors have a wait-and-see attitude. There's not much reason to jump in with both feet ahead of that."
The Dow Jones industrial average (INDU) rose 32 points, or 0.3%, with Exxon Mobil (XOM, Fortune 500), General Electric (GE, Fortune 500) and Chevron (CVX, Fortune 500) leading the gains on the blue chip index.
The S&P 500 (SPX) edged up 6 points, or 0.5%, and the Nasdaq (COMP) added 18 points, or 0.6%.
A housing report provided some early optimism, showing that U.S. home prices rose in April for the first time in seven months. But a report on consumer confidence signaled weakness, keeping stocks under pressure.
Analysts say that fears over what may, or may not, come out of the two-day summit with European leaders continue to permeate investor sentiment.
There's a lot riding on the summit, but investors are increasingly skeptical that European leaders will emerge with a concrete plan to aid struggling nations.
"The 800-pound gorilla in the room is how the eurozone will play out," said Dave Abate, senior wealth advisor for Strategic Wealth Partners. "The market has continued to react to a negative news flow out of Europe, and that will continue until Europe can create a more formal and concrete solution to the crisis versus the patchwork and disjointed Band-Aids that they've put together so far."
Spain and its ailing banking sector remain particularly troublesome. On Monday, Spain officially requested EU loans to support its banks, a number of which were later downgraded by rating agency Moody's.
Early Tuesday, Spain auctioned off more than €3 billion of short-term debt at high yields and slightly lower demand than the prior month's auction. Meanwhile, finance ministers from France, Germany, Italy and Spain are meeting in Paris Tuesday afternoon.
U.S. stocks were driven sharply lower Monday by worries about Europe and a slowing global economy.
Investors are keeping a close eye on bank stocks, which were largely behind Monday's sell-off. Shares of JPMorgan Chase (JPM, Fortune 500), Bank of America (BAC, Fortune 500) and Morgan Stanley (MS, Fortune 500) closed the day up, while Citigroup (C, Fortune 500) and Goldman Sachs (GS, Fortune 500) edged lower.
World markets: European stocks closed down on Tuesday. Britain's FTSE 100 (UKX) lost 1%, the DAX (DAX) in Germany fell nearly 2% and France's CAC 40 (CAC40) slid 3%.
Asian markets ended mixed. The Hang Seng (HSI) in Hong Kong rose 0.5%, while the Shanghai Composite (SHCOMP) fell 0.1%. Japan's Nikkei (N225) lost 0.8% after lawmakers approved a plan to double the country's sales tax.
Companies: News Corp (NCR, Fortune 500). confirmed Tuesday that it may split into two entities -- one comprising the 20th Century Fox film studio, Fox broadcast network and the Fox News Channel, and the other housing News Corp.'s newspapers and book publishing.
Shares of Best Buy Co. were up nearly 5% for the day on reports that the retailer's founder Richard Shulze may be selling his stake in the company.
Shares of Coinstar (CSTR), owner of the Redbox movie rental self-service kiosks, fell after the company said its earnings would be hurt by its $100 million acquisition of kiosk operator NCR Corp. (NCR, Fortune 500).
For-profit education company Apollo Group (APOL), which operates the University of Phoenix, released its third-quarter results after Monday's close. While net revenue declined due to lower enrollment, results still beat analysts' expectations.
Currencies and commodities: The dollar was flat against the euro and the British pound, but fell against the Japanese yen.
Oil for August delivery rose by 14 cents to $79.35 a barrel.
Gold futures for August delivery settled down $13.50 to $1,574.90 an ounce.
Bonds: The price on the benchmark 10-year U.S. Treasury fell, pushing the yield up to 1.62% from 1.61% late Monday.