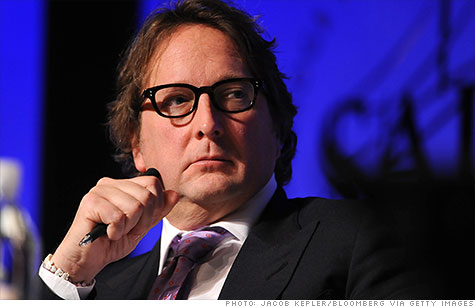 Billionaire hedge fund manager Phil Falcone was accused of using client funds to pay taxes and manipulating bond prices.
NEW YORK (CNNMoney) -- U.S. securities regulators on Wednesday charged billionaire hedge fund manager Philip Falcone and his Harbinger Capital firm with fraud.
The Securities and Exchange Commission claims that Falcone used client assets to pay $113 million in personal taxes, manipulated bond prices and played favorites with certain clients.
In addition, the SEC claims that Harbinger made illegal stock trades in three initial public offerings.
"Today's charges read like the final exam in a graduate school course in how to operate a hedge fund unlawfully," said Robert Khuzami, director of the SEC's division of enforcement, in a statement.
The lawsuit comes after Harbinger failed to prevent one of its biggest investments from going bankrupt. Wireless network LightSquared filed for Chapter 11 in May after its $9 billion partnership with Sprint (S, Fortune 500) dissolved. Harbinger is LightSquared's main financial backer.
The SEC also charged Harbinger's former chief investment officer, Peter Jenson, for "aiding and abetting" the misappropriation of fund assets.
Separately, the SEC settled charges with Harbert Management Corp., a former affiliate of two Harbinger-related entities.
Harbinger agreed to pay $857,950 in an administrative proceeding for selling securities short during the "restricted period" before an IPO, and then purchasing the same securities in the offering.
SEC officials say Falcone breached his "fiduciary duty" by borrowing $132 million from a Harbinger fund to pay his personal taxes in 2009. Falcone repaid the loan in 2011 after the SEC investigated the deal.
Matthew Dontzin, an attorney for Falcone, said the loan was sanctioned by a national law firm and was disclosed to investors, who he said were repaid with interest.
"The notion propagated by the SEC that investors were harmed by that conduct or any other is not only irresponsible but completely unsupported by any evidence," Dontzin wrote in a statement. "The other matters are equally without merit and will all be vigorously defended in the courthouse."
In a civil complaint, the SEC accuses Harbinger and two of its investment management units with manipulating the market for high-yield bonds issued by MAAX Holdings from 2006 to early 2008.
The SEC claims that Falcone orchestrated an illegal "short squeeze" to take revenge on an unnamed Wall Street firm that had advised clients to bet against the MAAX bonds.
A short squeeze is when an investor drives up the price of an asset to "squeeze" investors who are betting the asset will fall in price, forcing them to cover their position at inflated prices.
"After he took control of an entire issue of high-yield bonds, Falcone kept buying with an eye toward rigging the market and punishing short sellers to settle a score," said Gerald Hodgkins, associate director of the SEC's division of enforcement. "In the process, Falcone hijacked the market for the bonds and illegally manipulated their price and availability."
In 2009, while other clients were barred from withdrawing funds, Harbinger allowed a "large investor" to withdraw about $169 million, according to the SEC. The agency did not name the investor in its lawsuit, but reports suggest that it was Goldman Sachs (GS, Fortune 500).