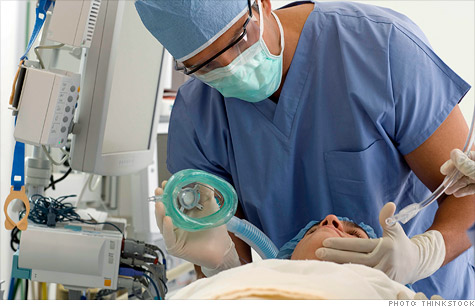 In a survey of 673 doctors by MDLinx, 17% of physicians who own a private practice fear they could be closing it within a year.
NEW YORK (CNNMoney) -- As the nation awaits the Supreme Court's ruling on health care reform, America's doctors are debating a serious issue of their own -- the possibility of going out of business.
Doctors, especially those operating private practices, said their financial hardship is increasing, making it "harder for them to earn a decent living," according to a new survey of 673 physicians across 29 specialties by MDLinx, a medical reference website for physicians.
Among the reasons doctors cited: significant school debt, rising business expenses and administrative hassles, shrinking insurance reimbursements and costly malpractice insurance. (Read: Exchanges may survive even if law falls)
The survey revealed that doctors operating private practices -- both small and large -- are feeling more financial pain than those employed by hospitals, said Stephen Smith, chief marketing officer for MDLinx.
In fact, 17% of all doctors with a private practice said they could foresee closing it within a year if their financial situation doesn't improve, the survey said.
"For consumers, the coming retraction from small practices to large clinics that this survey hints at would mean longer drives and less personal, higher cost of medical care for millions of Americans," said Smith.
The survey also revealed a marked disparity on physicians' financial situation and morale tied to the size of their current work environment.
While a third of smaller practice physicians forecast that 2012 will be one of their worst earnings years ever, Smith said only 13% of doctors at larger practices or hospitals reported the same expectation.
Health reform a hot topic: The survey showed that health reform also remains a hot topic for doctors, with some cheering reform and others lambasting it.
"I support Obamacare completely in theory," one doctor wrote in an anonymous comment in the survey.
"I feel strongly that we need a single payer to compete with insurance companies. [Still] I think the relative lack of physicians in the decision-making entities is a major problem for fixing health care."
"If Obamacare continues, I will leave the field of medicine!," another doctor said.
Yet another physician wrote: "The current state of finances for doctors is getting worse and will continue if Obamacare is not changed."
The Supreme Court, which is reviewing the constitutionality of the Affordable Care Act, is expected to issue a ruling Thursday.
The court could uphold the law, overturn it partially or completely strike it down.
The MDLinx survey, conducted in early April, polled physicians across all specialties, including those who own small and large private practices or work in hospitals.