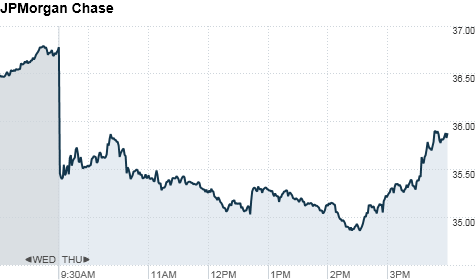 Click on the chart to track JPMorgan
NEW YORK (CNNMoney) -- JPMorgan's stock price fell Thursday following a report that its trading losses from a London unit could reach $9 billion.
JPMorgan Chase (JPM, Fortune 500) dipped 2.5% after the New York Times report.
The loss would be far wider than the $2 billion originally announced by JPMorgan on May 10. At that time, Chief Executive Officer Jamie Dimon said that the trading losses had occurred since the start of April.
The trading losses stemmed from the firm's corporate unit, which had been conducting derivatives trades to try to hedge against risk. The losses were blamed on a trader known as the "London whale."
Since then, the loss estimate has been growing sharply. More recently, the worst case estimate was believed to be $7 billion.
Other bank stocks slipped in morning trading. Bank of America (BAC, Fortune 500), Citigroup (C, Fortune 500) and Wells Fargo (WFC, Fortune 500) all fell in the first half hour of trading.