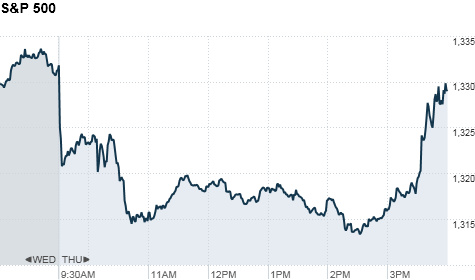 Click chart for more markets data.
NEW YORK (CNNMoney) -- Stocks closed in negative territory Thursday, after clawing back from much steeper losses in the last hour of trading.
A Bloomberg article stating that German Chancellor Angela Merkel cancelled a press conference at a European Union summit was enough to get investors speculating about a possible deal coming out of the summit.
Leaders at the two-day EU summit in Brussels are faced with the daunting task of coming up with a concrete solution to the continent's debt crisis.
While trading was largely driven by speculation and rumors, investors raced back into stocks, pushing the indexes, which had been down between 1% and 2%, up from earlier lows.
The Dow Jones industrial average (INDU) finished the day down 25 points, or 0.2%. The S&P 500 (SPX) fell 3 points, or 0.2%. The Nasdaq (COMP) sank 26 points, or 0.9%.
The story that drove the market for most of the day was the U.S. Supreme Court decision upholding President Obama's health care reform law.
That decision had sparked a deep sell-off for U.S. stocks, as investors fear that health care costs could further cripple economic growth.
Investors are concerned that the so-called individual mandate requiring all Americans to purchase health insurance might act like an additional tax, giving consumers another reason to cut back on spending.
There are also worries that businesses will be forced to spend more on health care and in turn will spend less on bigger-ticket items that power the U.S. and global economies.
"Businesses now absolutely have to plan and bake in expenses associated with this," said Paul Powers, head of trading at Raymond James. "Before today, the thinking was that the law would be dismantled."
The Supreme Court ruling is also viewed as a big win for President Obama, and many on Wall Street see any win for Obama as a loss for the markets.
"It's no mystery that the market doesn't love Obama. This is a feather in his cap," said Powers. "Investors don't want to see him go into the election with the wind at his back."
Health care stocks were sharply divided following the ruling and wrapped up the day that way. Insurers Aetna (AET, Fortune 500) and WellPoint (WLP, Fortune 500) dropped between 3% and 6%. Hospitals, including Community Health Systems (CYH, Fortune 500) and HCA (HCA, Fortune 500) rose between 9% to 10%.
Fears of a global slowdown also sparked a steep sell-off in oil prices, which ended the day down more than 3%.
Meanwhile, bank stocks remained under pressure after The New York Times reported that JPMorgan's (JPM, Fortune 500) trading losses at the firm could reach $9 billion. Shares of JPMorgan closed down 2.7%, while Bank of America (BAC, Fortune 500), Morgan Stanley (MS, Fortune 500), and Citigroup (C, Fortune 500) dropped between 0.3% and 2.6% Thursday.
U.S. stocks closed with solid gains Wednesday, following strong reports on durable goods orders and housing.
World markets: European stocks closed down, but off session lows. Britain's FTSE 100 (UKX) shed 0.6%, while the DAX (DAX) in Germany dropped 1.3% and France's CAC 40 (CAC40) fell 0.4%.
Asian markets ended mixed. The Shanghai Composite (SHCOMP) lost 1% and the Hang Seng (HSI) in Hong Kong slid 0.8%, while Japan's Nikkei (N225) gained 1.7%.
Economy: On the domestic front, the Labor Department reported Thursday morning that weekly jobless claims dropped 6,000 to 386,000, slightly more than expected. And the final estimate of first-quarter U.S. GDP growth was in line with expectations at a 1.9% annual growth rate.
Companies: Shares of News Corp. (NWSA, Fortune 500) dropped after the company's board unanimously approved separating its entertainment side from publishing. Rupert Murdoch will chair both companies.
Family Dollar's (FDO, Fortune 500) stock sank after the operator of discount chains reported earnings and revenue that fell short of expectations, and reaffirmed its guidance.
Shares of Nike (NKE, Fortune 500) dropped more than 10% in after hours trading, after the sneaker company reported a profit that fell short of expectations and weakening demand for its products in China.
Shares of Research In Motion (RIMM) plunged 19% in after hours trading, after the Blackberry maker said it would cut 5,000 jobs. The company also reported a loss of 37 cents a share and a sharp drop in revenues.
Currencies and commodities: The dollar rose against the euro and British pound, but fell against the Japanese yen.
Oil for August delivery slid $2.52 cents to $77.69 a barrel.
Gold futures for August delivery fell $28 to $1,550.40 an ounce.
Bonds: The price on the benchmark 10-year U.S. Treasury rose, pushing the yield down to 1.59% from 1.62% late Wednesday.