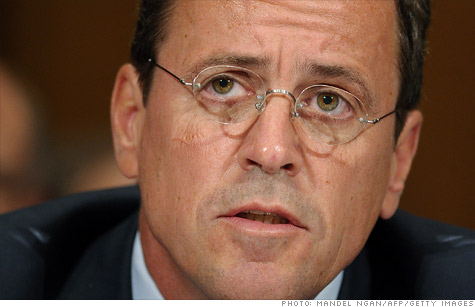 Former T-Mobile USA CEO Philipp Humm is joining Vodafone.
NEW YORK (CNNMoney) -- Now we know why T-Mobile USA's CEO, Philipp Humm, resigned Wednesday: He's heading to European wireless competitor Vodafone.
Humm, who helmed T-Mobile USA for two years, will now be Vodafone's chief executive of the northern and central Europe region.
That's one of two new operating regions for Vodafone, which also named Paolo Bertoluzzo to head up the southern Europe region. Michel Combes held the CEO title for all of Europe operations until he left last month to join Vivendi.
Humm's new job announcement comes just one day after his exit from T-Mobile, the fourth-largest wireless carrier in the U.S.
T-Mobile said Wednesday that Humm would be pursuing a career outside of parent company Deutsche Telekom, and that he would rejoin his family in Europe. News reports Wednesday said Humm was planning to join a Telekom competitor.
Jim Alling, the COO of T-Mobile USA, will serve as interim CEO.
Humm's resignation was unexpected, but the two years he spent at the helm were a rough stretch for T-Mobile. AT&T (T, Fortune 500) offered $39 billion for T-Mobile last year, but withdrew its bid in December after the Federal Communications Commission and the Department of Justice moved to block the deal.
T-Mobile scored $3 billion as a breakup fee from AT&T, plus another $1 billion worth of spectrum. But the company still faces an uphill battle, as it doesn't have enough spectrum to deploy a competitive 4G network. So T-Mobile is expected to merge with another company, if it can finagle a deal that will receive regulatory approval.