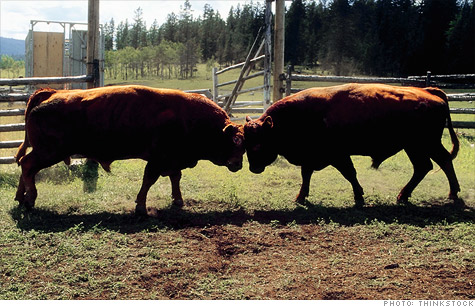 The bulls may stay around for the second half of 2012, but they may not be charging.
NEW YORK (CNNMoney) -- The bull market will continue into the second half of the year but expect the gains to come with an extra serving of nausea-inducing volatility, say market strategists.
First the good news. Declining gas prices and a potential bottoming out of housing prices may help push corporate profits higher in the second and third quarter. And that will keep stoking stocks, which are on pace to close off the first half with decent gains.
"Companies have found a way to keep a lid on costs, so along with lower gas prices that generally means stronger earnings," said Joseph Tanious, global market strategist at JPMorgan Chase (JPM, Fortune 500). Corporate America is also reaping the benefit of lowered expectations, he added.
Even noted bear investor and chief economist at Gluskin Sheff + Associates, David Rosenberg, won't bet against the market. "You want to be careful about becoming too pessimistic in the current environment," he said.
Indeed pessimism so far this year would've been costly. Since the start of the year, the S&P 500 (SPX) has jumped nearly 5%, the Nasdaq (COMP) has rallied 9%, and the Dow Jones Industrial Average (INDU) has gained 3%.
Rosenberg said there's a time when he will turn bullish, but he's not there yet.
Among the more optimistic market players, Ed Keon, managing director of Prudential's Quantitative Management Associate Funds, said he's pared back some of his stock holdings but is still keeping the fund roughly 60% in equities for now.
But even the most optimistic expect the rest of the year to be dotted with wide swings, mimicking the second half of 2011, which saw daily triple-digit swings at times.
"It will be a lot like last year and the year before that. We'll see lots of violent fluctuations," said Robert Tipp, chief investment strategist at Prudential Fixed Income.
Headlines about the looming fiscal cliff in the United States, Spain's and Italy's debt problems, worries about whether European leaders will be able to solidify their latest deal to address the debt crisis, and a potential crisis in Iran will keep fueling anxiety.
On the bright side, Rosenberg said he sees a desire at the grassroots level to get the United States' fiscal house in order. He believes the United States is at a tipping point, and there will soon be political will to cut America's "really excessive indebtedness."
And investors believe that central banks around the world will act swiftly and forcefully to flood the economy with money if the economy worsens significantly.
Federal Reserve chairman Ben Bernanke recently said the Fed is prepared to do more to boost the economy, if conditions warrant.
Market participants say they're still investing in equities, but they're picking their spots and gravitating toward dividend stocks.
With a more defensive investing position, market experts also suggest dabbling in corporate bonds. They give investors a better return than U.S. Treasuries but are safer than stocks.