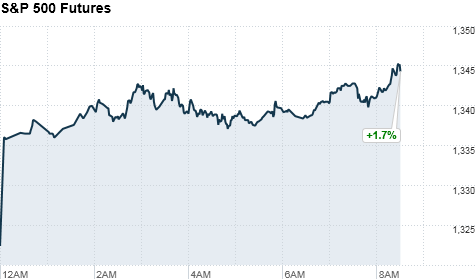 Click on chart for more premarket data.
NEW YORK (CNNMoney) -- U.S. stocks were set to rally at the open Friday, after European leaders reached a deal on struggling eurozone banks.
Optimism was further fueled by the latest reading on personal income in the United States, which increased in May by 0.2% -- slightly higher than what was expected.
Dow Jones industrial average (INDU), S&P 500 (SPX) and Nasdaq (COMP) futures were all about 1% higher. Stock futures indicate the possible direction of the markets when they open at 9:30 a.m. ET.
Friday also marks the end of the first half of the year. The three major indexes were on pace to close out with gains between 3% and 9%.
At the two-day European Union summit in Brussels, EU leaders struck a "breakthrough" deal early Friday to ease the recapitalization of struggling banks, which should help draw the eurozone back from the brink of its debt crisis.
The deal includes a European banking union with capital injections that will go straight into banks. This will have the potential to reduce what bond analyst Elisabeth Afseth called "the bank-sovereign negative feedback loop."
The Investec analyst in London said the loop starts when a nation borrows to recapitalize its troubled banks, which then increases the country's debt, pushes up bond yields, reduces bond values and forces banks to require even more capital.
"It's an important step," Afseth said, but she remains skeptical. "You have to be a little bit concerned where the funds are coming from. They could potentially run out quite quickly."
EU leaders are hoping for implementation of the bank agreement by July 9, according to a statement released by the group.
European stocks surged in afternoon trading on the news. Britain's FTSE 100 (UKX) added 1.9%, the DAX (DAX) in Germany jumped 3.3% and France's CAC 40 (CAC40) rallied 3.1%.
Meanwhile, Italian and Spanish 10-year bond yields fell, with Spanish bonds at 6.66% and Italian bonds at 6.03%. Both were previously flirting with 7% rates, which Spanish Prime Minister Mariano Rajoy called unsustainable.
In the United States, reports are due Friday on manufacturing and consumer sentiment.
U.S. stocks closed in negative territory Thursday, after clawing back in the final hour of trading from much steeper losses.
World markets: Asian markets ended higher. The Shanghai Composite (SHCOMP) closed just above breakeven, while the Hang Seng (HSI) in Hong Kong surged 3.1% and Japan's Nikkei (N225) gained 1.5%.
Economy: The Chicago Purchasing Managers' Index for June is due at 9:45 a.m. ET from economic consulting firm Kingsbury International. The index is expected to come in at 53, up from 52.7 last month. Any reading above 50 signifies expansion in the region's manufacturing sector.
At 9:55 a.m. ET, the University of Michigan's Consumer Sentiment Index for June will come out. It's expected to hold steady at 74.1.
Companies: Home builder KB Home (KBH) reported a second-quarter loss Friday that was smaller than expected. That sent shares up more than 10% in early trading.
Several large companies that had a rough Thursday afternoon continued sinking early Friday.
Nike (NKE, Fortune 500) shares tumbled more than 10% in premarket trading, a day after the company reported quarterly earnings that missed analyst estimates. The stock fell in after-hours trading Thursday, when it was joined by other sportswear producers and retailers, including Under Armor (UA), Lululemon Athletica (LULU) and Dick's Sporting Goods (DKS, Fortune 500).
Shares of Research In Motion (RIMM) fell 15% early Friday, after the BlackBerry maker reported a wider-than-expected loss Thursday, and another delay of its long-awaited BlackBerry 10 operating system.
Ford (F, Fortune 500) shares slid about 1% in premarkets. The automaker on Thursday lowered its guidance based on poor performance by its international divisions.
Currencies and commodities: The dollar fell against the euro, British pound and Japanese yen.
Oil for August delivery rose $2.45 to $80.14 a barrel.
Gold futures for August delivery jumped $21.70 to $1,572.10 an ounce.
Bonds: The price on the benchmark 10-year U.S. Treasury fell, pushing the yield up to 1.66% from 1.58% late Thursday.