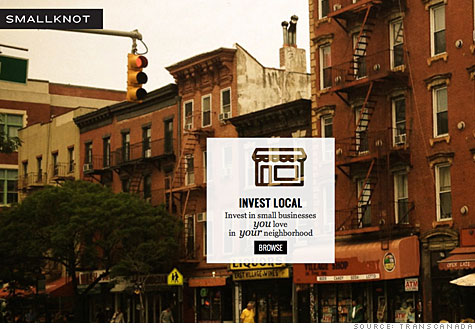 The team behind crowdfunding venture Smallknot wants to take the "buy local" movement one step further.
NEW YORK (CNNMoney) -- How much do you love your local coffee shop? Enough to help its owner buy new tables and chairs?
The team behind crowdfunding venture Smallknot wants to take the "buy local" movement one step further. The new site aims to be a Kickstarter for small businesses, helping mom-and-pop stores raise capital for specific projects.
Smallknot's goal is to change the way people think about their local retail economy.
"It's a platform for funding, but it's also a tool for engagement," says Ben Rossen, one of Smallknot's three cofounders. "What we're trying to do is facilitate offline relationships."
Like on Kickstarter, participants indicate how much they need to raise to carry out a given project, such as installing a new air conditioner to accommodate summer customers or buying equipment for an expansion. In return, merchants offer rewards. Some of the current goodies include a private dinner party for 18 (available for a $600 "investment" in Brooklyn restaurant Beer Table) or a food tour of New York's Chinatown (yours for a $75 contribution to the Saucey Sauce Co.).
It's all-or-nothing: If the target isn't hit, the business doesn't get any money. Smallknot profits by taking a cut of the cash in successful fundraising campaigns.
"One of the things that's really important to us is that this does not feel like a donation," Rossen says. "There's a reason we use the word 'investment' all over the site, even though it's not perhaps the most traditional use of the word. The idea is, as a user, you get more back than you put in."
Related story: 8 crowdfunding sites to watch
One thing you won't be getting is actual equity. The JOBS Act, passed in April, lets small firms raise up to $1 million from investors through crowdfunding sites. Dozens of crowdfunding startups are vying to take the lead in that field, but Smallknot is sticking with the Kickstarter model of offering perks and rewards, not an actual financial investment.
That's a change from the site's original model.
Smallknot's founders initially set out to build a microlending platform with a twist: Instead of paying back the principal plus interest, the businesses would pay back lenders' principal and throw in a perk or gift.
The company's first project launched in March under that model. Brooklyn restaurant Egg raised $10,000 in 30 days to replace the eatery's worn-down chairs and tables, says the restaurant's owner, George Weld.
As someone who had launched -- and failed to fund -- a project through Kickstarter, Weld saw Smallknot as a better opportunity to raise money.
"While I really like the idea of Kickstarter for artistic and creative projects, I felt a little weird about it personally, for a business," Weld said. "I didn't feel right taking money from people without giving them back. That was something about Smallknot that appealed to me."
About a month after Egg's successful campaign, Smallknot changed its repayment model. Rossen said the company feared that not all small firms would be able to repay the principal.
Smallknot has run three successful campaigns since shifting gears.
Yassir Raouli, the owner of a gourmet food truck serving Moroccan and Mediterranean-influenced sandwiches, recently used the site to raise cash to set up a permanent location. Initially, Raouli says he had qualms about asking for donations, but his wife urged him to give it a try. He set a goal of $8,000 to buy cooking equipment.
"It was kind of a rollercoaster ride," the Bistro Truck owner says. "We reached $4,000 in one week, but it kind of froze from there. We were almost $3,000 short, but in the last half-hour, someone came up and made the big donation. We still don't know who that person is."
As Rustic L.E.S. nears its opening, Raouli is preparing to thank his investors with T-shirts, 20% discounts and private cooking lessons.
Smallknot is New York-only for now (with the exception of one South Carolina project), but its goal is to expand nationally once the kinks are worked out.
"Our vision for Smallknot is ultimately to create a whole local financial ecosystem," Rossen says. "We'd really like to build a way so that individual people could be able to shape the communities they want to live in."