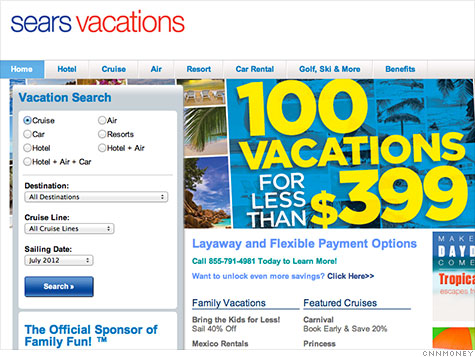 NEW YORK (CNNMoney) -- Sears launched SearsVacations.com last week, a full-service travel web site that allows customers to put everything from cruises to the Bahamas to golf trips in Hawaii on layaway.
Through the SearsVacations' layaway plan, customers put down at least 10% for a cruise or a vacation package and pay off the rest in self-determined increments that must be paid in full before the trip.
"[I]t's a natural fit for Sears," said Shannelle Armstrong, the company's director of public relations. "We have a layaway at Sears, the store, so our customers are used to more flexible payment options."
Other contract terms, such as the exact payment deadline and the refund policy, vary with the company offering the trip. Unlike Sears (SHLD, Fortune 500)' in-store layaway program, there is no initiation fee in the SearsVacations.com layaway plan.
Layaway programs regained popularity during the recession when many retailers revived them, especially around the holidays. However, Sears is one of the first major retailers to offer such a program for vacation packages.
Similarly, warehouse club Costco (COST, Fortune 500) offers vacation packages with the option of paying off the trip later, but few other major retailers offer options like this. Most travel companies give customers the choice to pay a down payment and then make a final payment before embarking on the trip, although some allow for payment plans.
Think twice before booking: Certified financial planner Lauren Lyons Cole said consumers should think twice before putting a vacation on layaway.
"I always encourage people to prioritize travel into their financial plan," Lyons Cole said. "That said, putting it on layaway is something I would never recommend."
She advises that cash-strapped vacationers seek out the best possible deals and set a budget. Once that's established, the personal finance expert says to start saving for the trip in a separate bank account, so in case there's an emergency -- like a broken car or an unexpected visit to the hospital -- you can always dip into the travel funds.
"Hopefully they'll get to their goal, but if something else came up, they can use that money toward something that they actually needed... as opposed to being stuck paying for this vacation at Sears, which becomes less important," Lyons Cole said. "It's good for people to have control over their own money."
When looking at layaway options in general, the Federal Trade Commission advises reading the fine print. Look at the terms of the plan, such as possible fees and the refund policy.