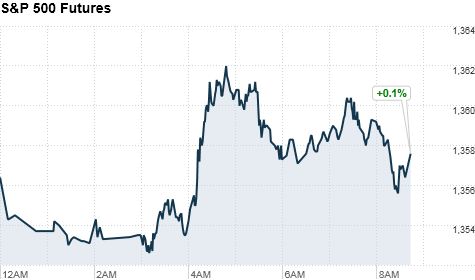 Click on chart for more premarket data.
NEW YORK (CNNMoney) -- U.S. stocks pointed to a flat open Monday, as investors waded through economic reports from Europe and China ahead of U.S. manufacturing data.
Dow Jones industrial average (INDU), S&P 500 (SPX) and Nasdaq (COMP) futures hovered around breakeven. Stock futures indicate the possible direction of the markets when they open at 9:30 a.m. ET.
Europe will continue to be in focus this week.
Eurostat released a report showing a new eurozone unemployment rate record of 11.1% for May, as 88,000 people were added to the jobless pool. But that rise isn't likely to shake investors much, said Ryan D. Larson, head of equity trading at RBC Global Asset Management.
"A one-tenth (of a percentage point) increase is certainly not a good sign, but given the state of the eurozone right now, seeing it tick to 11.1% was probably better than expected," Larson said.
Last Friday, EU leaders announced a "breakthrough" deal out of their two-day summit, saying they will take steps to stabilize eurozone credit markets and strengthen the region's banking system. But many of the details have yet to be finalized, and implementing the plans could prove politically and legally difficult.
In China, the National Bureau of Statistics said Sunday that the Manufacturing Purchasing Managers Index for June fell to 50.2 from 50.4 in May. The reading was just above the 50 mark that divides expansion from contraction in the manufacturing sector.
The negative outlook of the report was bolstered by the Monday release of HSBC's monthly Purchasing Managers' Index, which fell in June and showed the second quarter ended with the lowest value since the start of 2009.
Investors are keeping a close eye on Chinese manufacturing, given concerns about the country's slowing growth.
In the United States, Wednesday marks the 236th anniversary of the nation's independence and splits the week in half. That's sure to keep trading volume light and set the stage for choppy markets, said McGervey Wealth Management president Michael McGervey. He said any gains will be muted.
"The ongoing European debt situation, this softer landing in China, our ongoing fiscal policy dysfunction -- all this stuff is keeping our market at bay," he said.
Investors were waiting for several reports on U.S. manufacturing and construction. Later this week, the Bureau of Labor Statistics will release the jobs report for June.
Last Friday marked the end of the first half of the trading year, with all three indexes posting strong gains for the six months. The Dow rose 5.3%. The Nasdaq surged 12.5%, and the S&P added 8%.
World markets: European stocks were higher Monday. Britain's FTSE 100 (UKX) rose 0.8%, the DAX (DAX) in Germany added 1.3% and France's CAC 40 (CAC40) gained 1.2%.
Asian markets ended mixed. The Shanghai Composite (SHCOMP) ended just above breakeven, while Japan's Nikkei (N225) closed barely lower. Hong Kong markets were closed for a holiday.
Economy: The Institute of Supply Management will report its monthly manufacturing index at 10 a.m. ET. Economists surveyed by Briefing.com forecast the index will fall to 51.5, down from 53.5 in May. Any reading above 50 indicates growth in the sector.
May's construction spending reading will also come out at 10 a.m. ET. Spending is expected to have risen 0.2%, weaker than the 0.3% increase in April.
Companies: Barclays (BCS) on Monday announced the resignation of its chairman, Marcus Agius, in the scandal surrounding the bank's manipulation of interbank lending rates in 2008 and 2009. Shares were up more than 3% in premarket trading.
Shares of electronics maker Micron Technology (MU, Fortune 500) soared more than 7% in early trading on news that it announced a $2.5 billion deal to buy Japanese chip maker Elpida Memory. The move secures the company a spot as a major supplier to smartphone and tablet makers, including Apple (AAPL, Fortune 500).
Continuing Monday's tech company acquisitions, Dell (DELL, Fortune 500) agreed to buy IT management software provider Quest (QSFT) for $2.4 billion. The announcement nudged Dell's shares up and Quest's shares down.
Currencies and commodities: The dollar rose against the euro and British pound but fell versus the Japanese yen.
Oil for August delivery dropped $1.62 to $83.34 a barrel.
Gold futures for August delivery fell $13.90 to $1,590.30 an ounce.
Bonds: The price on the benchmark 10-year U.S. Treasury rose, pushing the yield down to 1.64% from 1.66% on Friday.