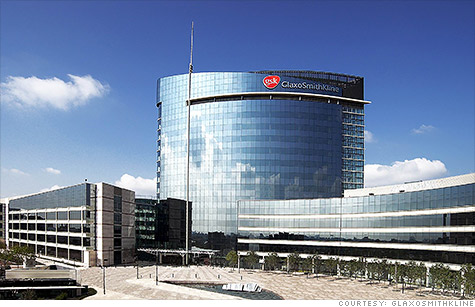 GlaxoSmithKline will pay a $3 billion settlement.
NEW YORK (CNNMoney) -- GlaxoSmithKline was slapped with a $3 billion fine Monday by the U.S. Justice Department after failing to report safety data on some of the company's most popular drugs.
The payment -- with $1 billion going to settle criminal wrongdoing, and $2 billion to cover civil liabilities -- is the largest fraud settlement in U.S. history, and the largest payment ever by a drug company.
GlaxoSmithKline (GSK) will plead guilty to two counts of introducing misbranded drugs, Paxil and Wellbutrin, into interstate commerce.
Specifically, the government alleged that the drugs were marketed as a treatment for conditions for which they had not been approved. It said Paxil, which treats depressive and anxiety disorders in adults, was marketed to children and adolescents, and Wellbutrin, an antidepressant, was marketed as a weight-loss aid.
A third count involves a failure to report safety data about the drug Avandia, a diabetes drug, to the Food and Drug Administration between 2001and 2007.
In addition to the criminal and civil resolutions, GlaxoSmithKline has reached a 5-year compliance agreement with the Department of Health and Human Services. Under terms of the deal, according to department Inspector General Daniel R. Levinson, company executives could forfeit annual bonuses if they or their subordinates engage in significant misconduct, and sales agents are now being paid based on quality of service rather than sales targets.
GlaxoSmithKline said in a statement that the settlement will be funded through existing cash resources.
"On behalf of GSK, I want to express our regret and reiterate that we have learnt from the mistakes that were made," CEO Andrew Witty said in a statement, adding that the company has changed its procedures for compliance, marketing and selling since the incidents.
Shares of GlaxoSmithKline stock rose 1.3% in Monday trading.
--CNN's Terry Frieden and CNN's Medical Unit contributed to this report