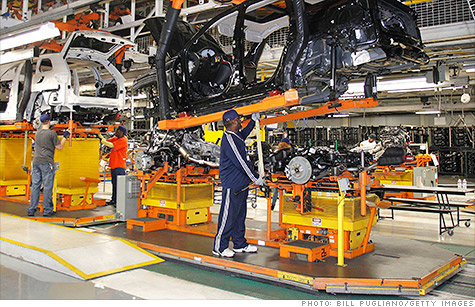 Manufacturing slowed in June, contracting for the first time in nearly 3 years, ISM says.
NEW YORK (CNNMoney) -- U.S. manufacturing slowed sharply in June to a level that indicates the sector is now contracting, marking the end of almost three years of growth in domestic manufacturing.
The Institute for Supply Management reported Monday that its monthly index fell to 49.7 in June from a 53.5 reading in May. Any reading below 50 indicates contraction in the sector.
The report is a worrying sign for the economy. Manufacturing had been something of a bright spot during the recovery, and the sector had expanded for 34 months in a row before June.
The index came in below the expectations of economists surveyed by Briefing.com, who forecast it would fall to 52.2.
The index's new orders component, a forward-looking indicator, was particularly hard hit. It fell 12.3 percentage points in June to 47.8 -- the first contraction in new orders since April 2009.
Sam Bullard, a senior economist at Wells Fargo, said that manufacturers are reacting to significant global headwinds.
"The deepening of the eurozone recession and the slowing of China's economy is really having an impact on manufacturers," Bullard said.
Investors reacted negatively to the new manufacturing numbers, and all three major indexes dropped sharply in the minutes after the report's release.
The report is likely to feed worries in the U.S. over slower growth in the second half of the year, as reports on both economic growth and the labor market have been lackluster in recent months.
Paul Dales, senior U.S. economist at Capital Economics, said in a research note that a reading of 49.7 does not mean the economy is heading toward a recession.
"A reading of below 47.0 is required to be consistent with another recession," Dales said. "This means the index is still consistent with a growing economy, albeit at an annualized rate of a little below 1%."
Investors will get another important data point on Friday when the government is due to release its latest jobs report. Economists expect only around 100,000 jobs to be created -- but anything below that number will set off alarm bells.
The U.S. isn't the only country experiencing a slowdown in manufacturing. China reported Sunday that its once-booming manufacturing sector is now growing at an extremely slow rate.
The China Manufacturing Purchasing Managers Index for June fell to 50.2 from 50.4 in May. Just like the U.S. gauge, any reading below 50 signals contraction in the manufacturing sector.
A separate report showed that eurozone manufacturing activity has been contracting for 11 straight months, according to Markit's Purchasing Managers' Index. At 45.4 in the second quarter, the PMI was at its lowest reading since 2009.