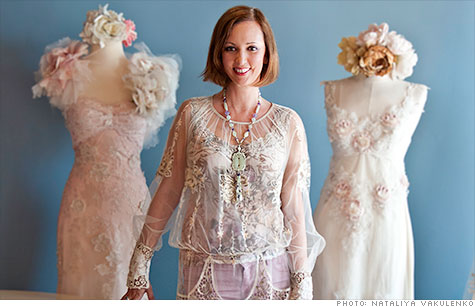 Claire Pettibone, who designed Priscilla Chan's dress for her wedding to Mark Zuckerberg, has seen a 300% increase in sales at her Bevery Hills store in June.
NEW YORK (CNNMoney) -- As Facebook's stock continues to struggle, another business is booming thanks to the social network.
On May 19, a day after Facebook launched the largest tech IPO in history, Mark Zuckerberg and his longtime girlfriend Priscilla Chan tied the knot in a surprise wedding in their Palo Alto, Calif., backyard.
Chan was catapulted into the international spotlight. And so was the $4,700 dress she wore for the nuptials, a delicate lace gown designed by Claire Pettibone.
The designer was already on track for a big year. But Pettibone said that the endorsement from the tech world's reigning princess bride was the icing on the cake.
"What a gift," she said. "You can't buy that kind of publicity."
She expects her business to double this year; sales at her flagship store in Beverly Hills were up 300% for the months of May and June following the wedding. Traffic to her website has jumped 30%.
Since Pettibone found out at the same time as the rest of the world that Chan had worn her gown, she had no chance to prepare for the frenzy that would ensue. It took Pettibone several days to figure out how the bride managed to select the dress in secret.
Chan wanted to look for dresses far from prying eyes in San Francisco, so she flew to Denver in October to try on dresses at the Little White Dress Shop.
At the time, boutique owner Cate Malone had no idea who Chan was, but she recalls that the bride was set on wearing a Pettibone gown even before she arrived.
Chan settled on a high-necked lace gown with a floral sequin-covered overlay and a chapel-length train that Pettibone named "Sky Between the Branches," and ordered the dress under a fake name.
When Pettibone first saw press photos of Mark Zuckerberg's bride wearing her dress, "I was so excited, but I was in shock," she said.
Pettibone soon found herself in the spotlight, receiving requests for interviews from dozens of press outlets.
"We are thrilled with the exposure, and I am so grateful and flattered that Priscilla chose one of my designs for her day," she said.
The designer has gotten so much buzz that she may have to move her fall runway show to a bigger venue to accommodate the many mainstream fashion editors who are clamoring for invites.
"We've held the show at a venue that seats 300 people for the last several years, but it's generally been just for people within the bridal industry," said spokeswoman Kate Bedrick.
Many of the 25 U.S. stores and 20 international shops with which she works report a swell of new business since Chan's wedding.
June sales at Malone's Little White Dress Shop tripled from a year ago, and there's been a surge of interest in Pettibone's designs in particular. Malone had to extend an August trunk show featuring Pettibone's dresses from one day to five to accommodate customer demand.
"She was a very well-known designer before this. But now it's on a whole new level."
Several new retailers have placed orders to carry her line in their stores, as well.
Camille Wynn, whose Seattle store The Dress Theory won't open until August, has already received calls from brides hoping to try on a Pettibone.
"Girls were heartbroken when we said they weren't open," said Wynn. "I plan to have the photo of Priscilla in the dress hanging in the store."
Pettibone is now working on her Spring 2013 collection, which she'll debut at New York Bridal Fashion Week in October. And she knows that this year, more eyes will seek out her designs than ever before.
"We've worked really hard all these years, but all of this does notch it up a bit," she said. "There's nothing for business like a celebrity bride."